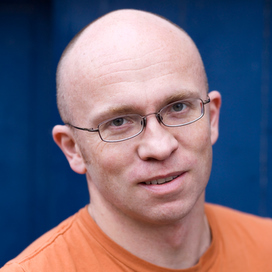 Andy Riley
Cartoonist and scriptwriter
Biography
Andy Riley is the creator, author and artist of the best-selling series of Bunny Suicides cartoon books, as well as a host of other very funny stuff.
His scriptwriting work includes writing for his own and other people's shows - Black Books, The Great Outdoors, Little Britain, Armstrong and Miller, Smack the Pony, The Armando Ianucci Shows - and is no less funny.
So far his books have sold around one and a half million copies and have been published in more than fifteen countries, as well as inspiring calendar, greetings card and poster spin-offs.
Twitter
@CuriouslyEmily I think Clegg is the great and powerful Oz in this analogy. And in his dreams.

@AntonyJohnston @sitcomgeek @andydiggle The intention is to convey to writer that Jim has the magic, writer relatively unimportant

@AntonyJohnston @sitcomgeek @andydiggle and tells the writer he's going to deliver that non-joke to crown. And make them laugh.