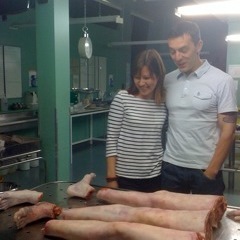 Ben Court & Caroline Ip
Writers for film and television
Biography
Ben Court and Caroline Ip are film and television screenwriters. Their debut feature, The Hole, based on the novel by Guy Burt, starred Keira Knightley, Thora Birch and Lawrence Fox and has become a classic teenage psycho thriller. They subsequently penned Cracks, the Jordan Scott helmed feature that starred Eva Green and Juno Temple.
For television, Ben and Caroline created and wrote May Day for Kudos/BBC1 about a May Queen who goes missing and the suspicions this crime raises in small town England. May Day starred Aiden Gillen, Sophie Okenedo, Pete McDonald, Peter Firth and Lesley Manville.
The first installment of Ben and Caroline's television serial Whitechapel, a three part thriller about a Jack The Ripper copycat killer, had viewing figures of over 8 million on ITV when it aired in January 2009 and was nominated for a 2010 Broadcast Award for Best New Programme. The hugely popular show is now in its fourth series which will air in late 2013.
They are currently developing new projects for television and film in the UK and the US.