A classic work of rural magic realism from one of Britain's greatest children's novelists.

Through four interconnected fables of a way of living in rural England that has now disappeared, Alan Garner vividly brings to life a landscape situated on the outskirts of industrial Manchester. Smiths and chandlers, steeplejacks and quarrymen, labourers and artisans all live and work hand in hand with the seasons, the elements, and the land. There is a mutual respect and a knowledge of the magical here that has somehow, somewhere been lost to us. These fables beautifully recapture and restore that lost world in simple, searching prose.
Rights

Karolina Sutton manages the translation rights for The Stone Book Quartet
Media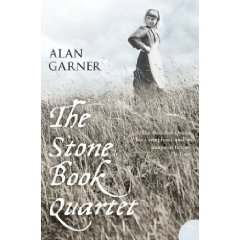 Reviews
These books have far more than a story to offer. The final continuity in the stories, linked as they are by repetition of words and image, of places and people, is the continuity of crafts, practised over generations and leaving their products behind them. The prose is simple, concrete and direct, as clear as notes in music and as definite.

Sunday Times
The Stone Book Quartet has an artistry that is nothing short of breathtaking, a simplicity that engages everyone who can hear the voices of the characters on the page. The use of metaphor has a diamond-like quality that makes us read his text as an exciting exploration of writing. He binds the reader to him and shows us the author working with language to make his book as his characters worked with iron and stone. Not a word is wasted. The episodes in each book stand out clear against the sky and landscape of Garner's north-east Cheshire

TLS