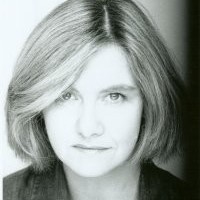 Andrea Gibb
Writer for film and television
Biography
Andrea Gibb is a Scottish film and television writer who in 2003 wrote the feature film Dear Frankie, starring Emily Mortimer and Gerard Butler, which won the Women in Film and Television Script Award in 2004.
In 2005 she was nominted for the Carl Foreman Award at the BAFTAs for her feature film Afterlife.
Since then, she has worked on a range of projects, including adaptations of Vikram Seth's best selling novel An Equal Music for Cuba Pictures and Raindog Films, Rose Tremain's Music and Silence for CMP Film.
Andrea is also currently working on a number of adaptations and original projects for television including More than This for BBC Scotland, GI Brides for World Productions and the adaptation of Emma Healey's award-winning novel Elizabeth is Missing for STV.
Her adaptation of Arthur Ransome's children's classic Swallows and Amazons was released in UK cinemas in August 2016.
CV
Film
Co-writer
'The Daylight Gate' Feature. Based on the novella by Jeanette Winterston. Co-writer with
Director Philippa Lowthorpe. Hammer Films / BBC Films Inn development.
TV
Writer & Creator
Drama about a young female chef who rose to fame in Victorian Britain.
BBC / Origin Pictures.
Drama about the British wives of American GIs in World War II who move to the United States
World Productions
In development
Radio
Writer
Director
Gaynor MacFarlane
Starring
Julie Austin
Eric Barlow
John Kielty
Helen Lomax
Monica Glbb
Friday play about a gifted young man at university who doesn't want to live
Production Company BBC Radio 4
Broadcaster BBC Radio 4
Director
Gaynor Macfarlane
Starring
Maureen Beattie
Liam Brennan
Richard Madden
Meg Fraser
Friday play about a mother struggling to cope with her son's drug addiction
Production Company BBC Radio 4
Broadcaster BBC Radio 4