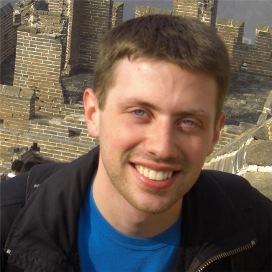 As lead editor on Once Upon a Time Machine, Andrew Carl worked hard to realize the vision of an incredible collection of writers and artists. An avid fan and student of the comic book medium, Andrew's award-winning thesis at the University of Pennsylvania explored Japanese manga, anime, and copyright culture. Prior to getting started on Time Machine, he worked on several movie and TV production teams, including those of Quentin Tarantino and Stephen Colbert.

He currently volunteers at 826NYC, a nonprofit tutoring center and writing workshop for students ages 6 to 18.
The ease with which this volume translates the classical legends of Greek gods and heroes into new generic spaces, and the creative mastery that makes each story challenging and new, are genuinely exciting. Throughout Greek Gods and Legends, readers get the sense that the classic stories remain relevant to the human experience... Readers who pick up this book (and pick it up they should!) will find a compelling blend of the fantastic and the familiar.
LA Review of Books
on Greek Gods and Legends
This is a gorgeous, GORGEOUS presentation. Clocking in at over 400 pages, this book is the type of thing I absolutely adore; beautifully crafted genre stories that take full advantage of the medium of comics.

CHUD.com on Once Upon A Time Machine
I found this to be a most fascinating read…Even if your young ones have no interest in fairy tales, I think this book will grab their interest anyway.

Journey of a Bookseller on Once Upon A Time Machine