The Year of Reading Dangerously
book
| Non-Fiction
| 2014
A funny, inscrutably honest account of one man's quest to reverse 20 years of lies and read the books he's always claimed to have read.

'I loved the writing and the characterisation, oh, and the plot – yeah, all really pithy. Really great': sound familiar?

Andy Miller has been living a lie. But then again, who hasn't? How many books have you claimed to have read but never actually finished, or started, or even heard of? Books you've really wanted to read, or should have read, but never had the time, or the inclination? Tackling the canon single-handedly, Miller decides to rectify his twenty odd years of lies and silence his nagging guilt and become the literate man he's always claimed himself to be.

The Year of Reading Dangerously is an inspired and witty tour of literature from all genres: classic, cult and Dan Brown. A comparative reading of The Da Vinci Code and Moby Dick somehow seems inevitable, the Charles Arrowby cookbook becomes a terrifying possibility and an explanation of the curious unreadability of Catch-22 is attempted. We travel from the mires of inaccessibility, incomprehensibility, commodification and confusion to moments of enlightened, ecstatic wonder. It becomes unavoidable to consider how we buy, borrow, steal and generally use and abuse books for our own complicated ends.

Written with characteristic sharp and honest humour, The Year of Reading Dangerously is an affirmation of the pleasure of reading and a challenge to everyone who loves books but has forgotten how to read. Out of serious enquiries into commercialism, mediocrity and our literary prejudices emerges a very funny account of one man's attempt to read more dangerously.
Rights
Kate Cooper manages the translation rights for The Year of Reading Dangerously
Translation Rights Sold
Arabic
World
Kalemat Arabia
Media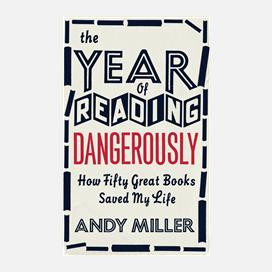 Reviews
A wonderfully elevating and entertaining memoir … Miller is the kind of person who cherishes the written word but does so without an ounce of the self-important puffery with which most professional cherishers parade around literature … he offers the best definition I've ever encountered of what makes a great book; one that accounts for the mad — and often maddening — subjectivity of any answer, yet finds beauty and comfort in precisely this slipperiness … a delightful read in its totality.
Maria Popova
Brain Pickings
Brilliant. All these books should count themselves lucky to have been read by Andy Miller.
Stewart Lee
I adored this hilarious and touching book. Essential for anyone who likes to read. If you don't like to read, this book is probably not for you, but Dan Brown remains on sale.
Jenny Colgan
I enjoyed The Year of Reading Dangerously so much. Not only is it wonderfully funny, but it is also a brilliant take on the whole notion of a living literary culture, and what that might actually mean when we get back to the business of reading. I love its directness and sanity.
Michael Bracewel
Terrific … Miller writes from the heart without mawkishness and he's very funny … you will emerge enriched.
Lee Randall
A History of My Life in 100 Objects
The Year of Reading Dangerously is funny, melancholy, grumpy and profound. It's all you might want from a book.
Andrew Male
A heroic and amusing attempt to get back to the classics … Fandom and enthusiasm are Miller's forte and flare up brilliantly around certain titles on his list … He goes into orbit so spectacularly about something called Krautrocksampler by Julian Cope that it is impossible not to put down The Year of Reading Dangerously and go off to check it out.
Claire Harman
The Guardian
Andy Miller is a very funny writer. And this hymn to reading is a delight. The chapter on Herman Melville and Dan Brown had me howling with pleasure. PS. It will also make you feel a bit well-read.
Matt Haig
I loved this book. The Year of Reading Dangerously is a must for booklovers – challenging, controversial and very funny.
David Nobbs
Utterly wonderful.
Linda Grant
The best book of the year … I approached The Year of Reading Dangerously, given my busy lifestyle, determined to read fifty pages a day. But reader, I failed. I read far more. Congratulations, Mr Miller – you have written a highly entertaining book.
Amy Pirt
This Little Bag of Dreams
Like an energy sweet invented by a librarian or a workout DVD where authors in tweed jackets and legwarmers motivate you to sit in a corner and read comfortably and incessantly … this is how I should have written my own book on books … a perfect book for plane travel, it is engaging, moves briskly and educated me too.
Robin Ince
In his fanciful, endearing account of his experiences tackling classic works, Andy Miller conveys his love of reading … the author explores his life through an account of the books that influenced him … there is plenty of hilarity in Miller's intimate literary memoir.
review
Publishers Weekly
I finished Andy Miller's mad, funny, lovely The Year of Reading Dangerously and felt like a close friend had announced emigration plans. If you read, read it.
Charlotte Mendelson
When I first heard about this book, I thought it was going to be one of those lists of books that you 'have' to read to be a Proper, Righteous Reader. But it's not at all. It's more of a memoir in books – it's also about renewing a passion, family, and making changes in life for the better. It's about books as an exploration of yourself … it's very easy to explore along with him … Well worth a read if you love reading, or used to and feel like you've lost the love, or the time, to do it. It certainly moved War and Peace to my 'maybe' list from 'never'.
Debbie Kinsey
Mischief and Miscellany
An often hilarious, and even inspiring, memoir … Crammed with personal stories, jokes, footnotes, trivia, blog entries and lists, Miller's book is ultimately about the subjectivity of our reaction to books, which, if we are honest enough to admit, is often not in tune with received wisdom … like Miller, I have rediscovered the joy and challenge of reading beyond one's comfort zone.
Gautam Padmanabhan
The Hindu
Touching, admirably honest and very funny indeed … one of those books which has you sniggering and chortling in a way guaranteed to annoy anyone else in the room … a thoroughly entertaining journey.
Susan Osborne
A Life in Books
One year Andy Miller decided to read his way through fifty literary classics which he'd never got round to. This is a readable, often funny account of his response … It's not so much the content of the books that brings rewards but the process of reading them and the thought this inspires.
Brandon Robshaw
The Independent
Like Bill Bryson being locked in the British Library for his own good, The Year of Reading Dangerously is clever, inspiring and – shh! – laugh-out-loud funny. P.S. You're going to need some bigger bookshelves.
Neil Perryman
Brilliant to see children's books championed in The Year of Reading Dangerously; Andy Miller really gets the joy of childhood reading. If you love books (and who among us doesn't), you must read this one!
S.F. Said
An affecting tale of the rediscovery of great books … Imagine a friendly, funny Brit pacing a stage as quotes and video clips flash on a giant screen. With vigour, he riffs on lit in a post-lit age.
Charles Euchne
Boston Globe
Hugely enjoyable … In his book The Year of Reading Dangerously, a witty self-help guide to managing one's bookshelves, Andy Miller counsels against allowing reading choices to be dictated by literary vogue. We do not, in other words, all have to read The Goldfinch at the same time.
Alex Clark
TLS
If only literary criticism always came in the form of The Year of Reading Dangerously, it would be irreverent, understandable and fun. You don't need to agree with any of Andy Miller's opinions about the books. You don't need to have read his choices, many canonical, some mass-market bestsellers (Herman Melville's Moby Dick and Dan Brown's The Da Vinci Code respectively). And you don't need to do what he did, which was to devote his commute to books he claimed to have read but hadn't … Miller has produced something original from an otherwise predictable project.
Charmaine Chan
South China Morning Post
Miller's is a highly amusing and encouraging journey and the pleasure in this book (apart from the entertaining digressions, such as his persuasive analysis of why Moby Dick and The Da Vinci Code are in fact, essentially, the same) is in his ability to capture and convey the magic of losing and discovering yourself through reading.
Kate Slotover
Riddle Magazine
[Miller] shows himself to be a valuably idiosyncratic writer, whose own book is like nothing else I have ever read – a combination of criticism and memoir that is astute, tender, funny and often wickedly ironic.
Peter Conrad
The Observer
A lovely read for lovers of books; honest, brave even, frequently hilarious.
Christopher Fowler
Funny and engaging throughout and, for all the author's self-deprecation, perfectly erudite.
Kirkus