A collection of fables in which the intuition of animals is set against the hubris of man. Anson Cameron is part court jester, part acclaimed writer of short stories and novels, and part national conscience.

A cola company uses the last wild polar bears as billboards. A boy is forced to compose poems for cats. A dog starts a race-riot. A zebra shames two armies. A zoologist vivisects a gorilla to disprove evolution and has his own brain placed in the ape's head. In New Guinea zookeepers eat their exhibits. In Gippsland the face of the Lord appears on diary cows. In the Western Desert mummified egg-bandits hang from trees.

By these incidents the Nature of Man is compellingly exposed. And the many and varied species of Mother Earth are wry spectators as Man pilots the planet he thinks he owns into the wall of oblivion.
Rights
Kate Cooper manages the translation rights for The Pepsi Bears
Media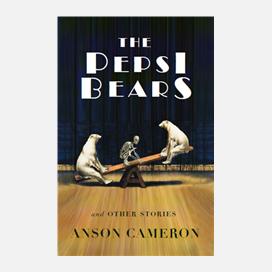 Reviews
...prose that fizzes with energy and humour, leaping from the scatalogical to the lyrical, from the earthy to the sublime
The Adelaide Advertiser
Cameron writes a tough, gutsy story that is so well crafted you know there's someone behind the wheel from the word go
The Age
...one of the most interesting writers of his generation...has an imaginative largesse and sentence-by-sentence articulation that soars above the pack
Peter Craven
The Australian
Shaped by an eagle-eyed wit that enjoys the very human pretensions it so deftly undermines…
Michael McGirr
Sydney Morning Herald
All the bijou gems of fiction that Cameron displays here glitter with the charming unselfconsciousness of animals other than the human
Duncan Driver
Canberra Times