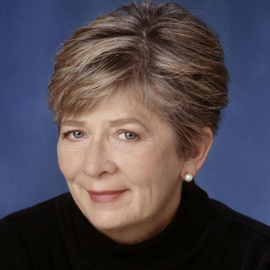 Barbara


Ehrenreich

Non-fiction writer
Barbara Ehrenreich is a non-fiction writer of 20 books, including the bestsellers Bright-Sided (Smile or Die in the UK), Nickel and Dimed and Bait and Switch.

A frequent contributor to Harper's and The Nation, she has also been a columnist at the Guardian, the New York Times and Time magazine.
Her conclusions are harsh, perhaps atypical for many, yet she tempers the realities with clear-cut recommendations for change.

Booklist on Bait and Switch
Ehrenreich convinced me completely. . . I hesitate to say anything so positive as that this book will change the way you see absolutely everything; but it just might.
Nora Ephron
The Daily Beast on Bright-Sided
Audacious . . . a winning approach to autobiography
Financial Times
on Living With A Wild God
'Ehrenreich] has a doctorate in cellular immunology, and throughout the text, she employs the erudition that earned her degree, the social consciousness that has long informed her writing, and the compassion that endears her to her many fans...A powerful text that floods the mind with illumination—and with agonizing questions
Kirkus, starred review
on Natural Causes
Intelligent and thoughtful ... A fascinating spiritual odyssey, rigorously honest and deeply moving
Sunday Times
on Living With A Wild God
Ehrenreich's sharp and fearless take on mortality privileges joy over juice fasts and argues that, regardless of how many hours we spend in the gym, death wins out. An incisive, clear-eyed polemic, NATURAL CAUSES relaxes into the realization that the grim reaper is considerably less grim than a life spent in terror of a fate that awaits us all.
Matthew Desmond
on Natural Causes
[Ehrenreich] offers a healthy dose of reformist philosophy combined with her trademark investigative journalism. In assessing our quest for a longer, healthier life, Ehrenreich provides a contemplative vision of an active, engaged health care that goes far beyond the physical restraints of the body and into the realm of metaphysical possibilities.
Booklist
on Natural Causes
Claiming to be 'old enough to die,' feminist scholar Ehrenreich (Living with a Wild God) takes on the task of investigating America's peculiar approach to aging, health, and wellness…Ehrenreich's sharp intelligence and graceful prose make this book largely pleasurable reading.
Publishers Weekly
on Natural Causes
Imagine Sherlock Holmes, spyglass in hand, uncovering the crimes of our very own immune cells, as they sometimes welcome disease into our aging bodies instead of protecting us against it, and you have our own brilliant, Barbara Ehrenreich, PhD in microbiology, at work uncovering a scientific mystery.
Arlie Hochschild
on Natural Causes
Barbara Ehrenreich is a singular voice of sanity amid our national obsession with wellness and longevity. She is deeply well-informed about contemporary medical practices and their shortcomings, but she wears her learning lightly. NATURAL CAUSES is a delightful as well as an enlightening read. No one who cares about living (or dying) well can afford to miss it.
Jackson Lears, PhD
on Natural Causes
She has a surgically precise way with words, a sense of humour and a PhD in cellular immunology. This book is joyous. It is neither anti-medicine nor anti-prevention; it is pro-balance, pro-scepticism and pro-perspective... for me, as with so many of Ehrenreich's books, Natural Causes is a much-needed tonic.
Yvonne Roberts
The Observer on Natural Causes