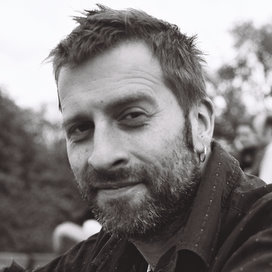 Ben Hopkins
Writer and director for film
Biography
Ben is a writer and director who won early recognition with his multi-award winning shorts The Holy Time and National Achievement Day, both of which were made while he was still a student at the Royal College of Arts.
He began his professional career with the critically acclaimed feature films Simon Magus (1998) and The Nine Lives of Tomas Katz (2000). Ben's third feature, the documentary 37 Uses for a Dead Sheep, examined the history of the Pamir Kirghiz tribe and won numerous prizes, including Best British Film at the 2006 Britdoc Festival, the Caligari Prize at the Berlin Film Festival and Best Film at the Toronto Hot Docs Festival.
In 2008 he released The Market, which played across the world and was selected for both the Dinard and London Film Festivals. His latest fiction film, Welcome to Karastan, was released in UK cinemas in January 2016.
CV
TV
Writer
Director
Ermek Shinarbaev
Commissioned by Unifors Moscow for Russian Television
Theatre
Writer
Producer
Lyric Theatre, Hammersmith
Adapted from the original story by Ben Hopkins and David Farr
Lyric Theatre, Hammersmith
Other
Writer & Director
Starring
Emily Lloyd
Anthony Higgins
Half-hour film selections shot for the stage play performed at the Electric Cinema, Notting Hill, starring Emily Lloyd and Anthony Higgins. Involves pastiches of 1940s Hollywood style and 1920s German Expressionism.