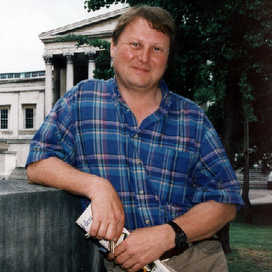 Bill McGuire
Science presenter for television, and non-fiction writer and journalist.
Biography
Professor Bill McGuire is Professor of Geophysical Hazards at University College London and Director of the university's Benfield UCL Hazard Research Centre. He is also a Fellow of the Royal Institution and a member of the RI's Science Media Panel.
A volcanologist by inclination and training, he has worked on volcanoes all over the world and published over three hundred papers, books and articles on volcanoes and other natural hazards. His most recent academic texts are:
Natural Hazards and Environmental Change
and
World Atlas of Natural Hazards
.
Bill is a regular contributor to
The Guardian
, and has also written for the
Sunday Times
, the
Mail on Sunday
,
Geographical
,
Prospect
,
Society Today
,
New Scientist
, and
BBC Focus
magazine. He is a much called-upon TV and radio pundit whenever a natural catastrophe strikes.
CV
Radio
Presenter
Production Company BBC
Broadcaster BBC Radio 4
Production Company BBC
Broadcaster BBC Radio 4
TV
Executive Producer
Producer
William Hiklin, David Hunt & Rachel Scarrott
Starring
Well received documentary investigating the geological reasons for the Haitian earthquake in 2010.
Pioneer Productions
for
Channel 4