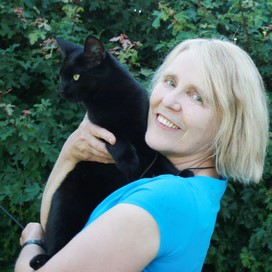 Celia Haddon
Non-fiction writer and journalist
Biography
Celia Haddon is one of Britain's best known cat experts. She has compiled a number of best selling books about them. Celia won the Blue Cross Award in 1997 for her services to animal welfare and the Golden Cat award from the Feline Advisory Bureau. She is patron of Britain's largest cat charity, Cats Protection, and of the Rabbit Welfare Fund.
For many years she was the
Daily Telegraph's
pet agony aunt dealing with about 100,000 queries. She is a qualified cat behaviourist with a degree in applied animal behaviour. She is currently studying for a masters degree in clinical animal behaviour. Her hobbies are standing stones and early music.
Her website is
www.celiahaddon.com
where she gives detailed information about cat behaviour problems, and the behaviour of small animals like hamsters, guinea pigs and rabbits. Her late cat George lives on in his blog –
http://george-online.blogspot.com
She has a Facebook page at
www.facebook.com/CeliaHaddonBooks