book
| Non-Fiction
| 2013
UK & Comm →
Bodley Head
(Ed. Kay Peddle)
US & Canada →
Public Affairs
In Search of the World Before the Great War

Today, we inevitably view 1913 through the lens of 1914: as the last year before a war that would shatter the global economic order and tear Europe apart. Yet hindsight can obscure as much—or more—than it reveals. In this illuminating history, Charles Emmerson liberates the world of 1913 from this "prelude to war" narrative and explores it as it was.

Traveling from Europe's capitals to Bombay, Tokyo, St. Petersburg, Winnipeg, Los Angeles, Peking, and beyond, Emmerson restores 1913 to contemporary freshness and illuminates a world more integrated and internationalized than we recall. A truly global economy had emerged for the first time, underpinned by the gold standard. New railroads, shipping routes, and cables made the world smaller. The first Model T-Ford drove off an assembly line. The Young Turks challenged the Ottoman Empire in Istanbul. Mass migration was fundamentally reshaping the globe's human geography.

Full of fascinating characters, stories, and insights, 1913 brings a lost world vividly back to life, with provocative implications for how we understand history and ourselves.
Rights
Audio Rights
Available
The audio rights are handled by Alice Lutyens.
Jake Smith-Bosanquet manages the translation rights for 1913
Translation Rights Sold
Chinese Simple
Mainland China
CITIC Publishing Group
Media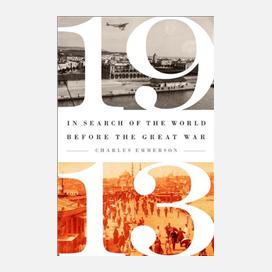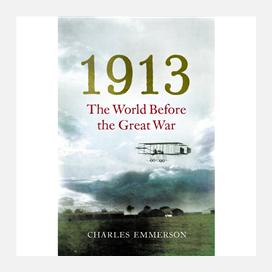 Reviews
One of the great merits of Charles Emmerson's global panorama is to show events in the months leading up to the summer of 1914 as something other than a precursor to mass slaughter.
New Stateman
If Downton Abbey still colours your impression of what Britain was like on the cusp of the First World War, 1913 could be a useful corrective.
Scotsman
A masterful, comprehensive portrait of the world at that last moment in its history.
Spectator
Charles Emmerson explores an endlessly interesting question: How did the great glossy world of the European Empires come to grief in 1914? This is a most elegantly written book and should stand comparison with the much older classic, Barbara Tuchman's The Proud Tower.
Norman Stone
Author of World War One: A Short History
Every so often a book comes along that simply must be read. 1913 is such a work. Luminous and majestic, rich in detail and stunning in its depth of research, 1913 is a sweeping and haunting portrait of the world on the edge of the precipice. Read this book, but be prepared to stifle at the end of every page an urge to scream out a warning to those long since dead that they must take another road.
Wade Davis
In his sweeping travelogue, which takes the reader from London to Durban, Detroit to Winnipeg, Algiers to Tokyo, Emmerson shows that the Great War was far from inevitable and that the optimism, ideas and global interconnectedness of 1913 could have led the world down another path, had history taken a different turn.
Christian Science Monitor
[Emmerson draws] upon an impressive range of contemporary source material, ranging from travel guides and memoirs to unpublished diaries, newspaper reports and diplomatic memos. They give a vivid portrait of the rapid changes occurring in daily life around the globe.
Wall Street Journal