Shall I tell you what I did?

No, I won't. It's best forgotten.

That's what Dad said with the hot chocolate near the carpet in my bedroom afterwards, and I believed him, but sadly he lied and now everybody is talking about it.

Did you know that all snow leopards have grey eyes? Well they do. Sharks shed their teeth, too.

And anyway, it was his fault! I only ran away because of him, and like the interfering bitch said you mustn't hit a child.

If you do they'll send somebody to decide what's best. It's automatic, like reflux, which happens when a fly flies into your eye. Fly! Whap! Blink! That's reflux.

I'm Billy Wright. I'm six. And I'm not saying any more about what I did here because I don't have to.

Rights
Audio Rights
Available
The audio rights are handled by Alice Lutyens.
Film Rights
Available
Contact Nick Marston for more information
Melissa Pimentel manages the translation rights for What I Did
Translation Rights Sold
Portuguese
Brazil
Novo Conceito
Media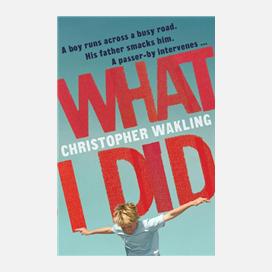 Reviews
This is family life today at its most believable: warm and messy, bored and raging, and above all, self-conscious. WHAT I DID is every parent's nightmare, but will make you burst out laughing too.
Emma Donoghue
I loved it! Staggeringly good. Terrifyingly good.
Lisa Jewell
Hugely impressive, gripping, funny and thought provoking.
Emily Barr
Excellent. Better than The Slap - on similar ground. Dark but uplifting.
Alex Preston
Gripping, hilarious, tender and a whole lot more, this is, without doubt, one of the books of the year.

Daily Mail
The novel brilliantly captures parent-child relations in the raw and the emotions that even the most experienced social worker can't tame.
Emma Hagestadt
The Independent
Full Review