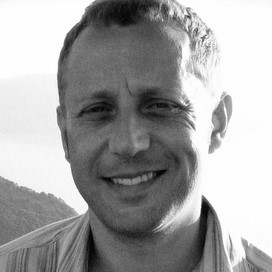 Damon


Thomas

Director for television
Damon came from a background in documentaries, going on to direct high profile dramas including two series of Sky Atlantic and Showtime's Penny Dreadful, and new drama Riviera for Sky Atlantic.
Damon directed two brilliant low budget dramas for BBC 4, both in partnership with Mark Gatiss: Crooked House with Tiger Aspect Productions and The First Men In The Moon - which he also produced through his own partnership company with Mark Gatiss; Can Do Productions.
Damon also directed Dirk Gently for ITV Productions /Welded Tandem and BBC 4; a pilot based on the Douglas Adams book, adapted by Howard Overman and starring Stephen Mangan. His other drama credits include Prisoners Wives - an original for Tiger Aspect/BBC 1 - and Monroe, starring James Nesbitt, for Mammoth/ITV 1, Lightfields for ITV1, and the second series of In the Flesh for the BBC. Most recently he directed Killing Eve, and returned to Series 2 as lead director and executive producer.
Television
Director
Creator
Phoebe Waller Bridge
Writer
Phoebe Waller Bridge
Starring
Jodie Comer
Sandra Oh
Creator
Phoebe Waller-Bridge
Producer
Sally Woodward-Gentle
A security operative hunts for an assassin. Based on the Villanelle novellas by Luke Jennings.



Sid Gentle
for
BBC America
Writer
Neil Jordan and John Banville
Starring
Julia Stiles
Iwan Rheon
Archery Pictures
for
Sky Atlantic
Third series of the popular drama
Neal Street Productions / Desert Wolf Productions
for
Showtime/Sky Atlantic
Starring
Eva Green
Helen McCrory
Horror series
Neal Street Productions / Desert Wolf Productions
for
Showtime / Sky Atlantic
Starring
Jill Halfpenny
Wayne Foskett
Sam Hazeldine
Karla Crome
Lucy Cohu
Five-part supernatural drama
Starring
James Nesbitt
Sarah Parish
Tom Riley
Series about a group of women who have lost the men in their lives to Her Majesty's Pleasure.
Tiger Aspect Productions
for
BBC1
Starring
Kayvan Novak
Rhys Thomas
Richard Madden
Drama series which follows a team of world-weary paramedics on the streets of Leeds.
Daybreak Pictures
for
Channel 4
In Production
Starring
Stephen Mangan
Darren Boyd
Helen Baxendale
Drama starring Stephen Mangan based on the Douglas Adams' cult novel, Dirk Gently's Holistic Detective Agency.
ITV Productions/Welded Tandem
for
BBC4
Horizon meets the scientists beginning to unlock the secrets of speech - including a father who is filming every second of his son's first three years in order to discover how we learn to talk, the autistic savant who can speak more than 20 languages, and the first scientist to identify a gene that makes speech possible.
Starring
Lee Ingleby
John Arthur
Drama tells the little known story of Apsley Cherry-Garrard's epic hunt for penguin eggs during Captain Scott's polar expedition of 1910–1913.
Tiger Aspect Productions
for
BBC 4
Three-part supernatural drama mini-series based around the goings-on in a haunted manor house.
Tiger Aspect Productions
for
BBC4
Starring
Rory Kinnear
Adaptation of HG Wells' scientific fiction classic
Can Do Productions
for
BBC4
Writer & Director
Starring
Paul Rhys
David Bamber
David Calder
A dramatised documentary on the life and music of Ludwig van Beethoven.
Director & Producer
50 minute documentary which showed Jonathan Miller retracing the steps of the first anthropological field trip to the Torres Straight Islands - which gave birth to British anthropology.
Uden Associates
for
BBC 2
Two half-hour documentaries on the subject of modern day morality with Angus Deayton.
Talkback Productions
for
BBC 1
Eight half-hour fly-on-the-wall documentaries following the highs and lows of six aspiring actors in Hollywood.
50 minute documentary on the memories of people who either went to, participated in, or were guests at past Royal Weddings.
50 minute documentary on the life and work of Tim Roth.
Three of six documentaries about divorced couples who have volunteered to spend more time together again.
Three hour-long documentaries on humankind's fascination with and plans to go to Mars.
Half hour programme which uses the latest in visual compositing techniques to allow Paul O'Grady (a.k.a. Lily Savage) to meet his hero Bette Davis.
Started Channel 4's Georgian Underworld season. Hour long docu-drama starring Bernard Gallagher which tells the story of Thomas Coram and the reason he set up a hospital for abandoned babies in London in the 1740s.
One-hour documentary looking at the rise in interest in psychic phenomena and featuring the story of Justine Picardie, the author who wrote a book about her search for someone who could contact her sister who died of breast cancer.
Juniper Communications
for
Channel 4
Final programme of three films based on the Award winning book Mutants by Armand Marie Leroi. Presented by Dr. Leroi the programmes look at how genetic mutation tells us something about normal human diversity. This film looks at the meaning of beauty.
Tiger Aspect Productions
for
Channel 4
Starring
Robert Hendy-Freegard
Hour-long film about Robert Hendy-Freegard, the man who pretended to be an MI5 spy and conned friends, family and lovers for money and pleasure over a 10 year period. He was convicted of 19 counts including for the first time in legal history kidnapping by deception.
Century Films
for
Channel 4
An insight into the life and times of David Beckham, one of the most famous men on the planet, filmed with his full co-operation in the weeks leading up to the World Cup in 2006.
19 Television/Century Films
for
ITV 1
Documentary looking at the rise in use of self-storage in modern living.
BBC Documentaries
for
BBC1