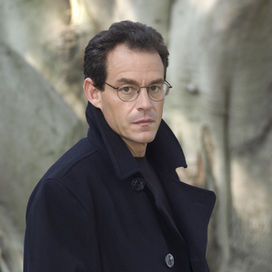 Daniel Silva
American journalist and novelist
Biography
Bestselling author Daniel Silva has been placed in the same category as John le Carré and Graham Greene. He has been called his generation's finest writer of international intrigue and one of the greatest American spy novelists ever. Compelling, passionate, haunting, brilliant: these are the words that have been used to describe the work of Daniel Silva.

Silva burst onto the scene in 1997 with his electrifying bestselling debut, The Unlikely Spy, a novel of love and deception set around the Allied invasion of France in World War II. His second and third novels, The Mark of the Assassin and The Marching Season, were also instant New York Times bestsellers and starred two of Silva's most memorable characters: CIA officer Michael Osbourne and international hit man Jean-Paul Delaroche. But it was Silva's fourth novel, The Kill Artist, that would alter the course of his career. The novel featured a character described as one of the most memorable and compelling in contemporary fiction, the art restorer and sometime Israeli secret agent Gabriel Allon, and though Silva did not realize it at the time, Gabriel's adventures had only just begun. Gabriel Allon appears in Silva's series of novels, each one more successful than the last. The Messenger was the 2007 winner of the Barry Award for Best Thriller.

All of Silva's books have been New York Times and international bestsellers. His books have been translated into more than 25 languages.