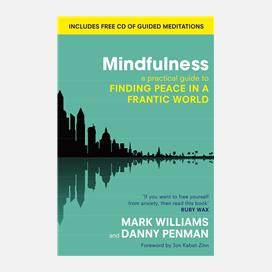 Danny Penman and Mark Williams
Mindfulness Frame by Frame
book
| Non-Fiction
| Apr 2023
UK & Comm excluding Canada →
Little, Brown & Company
(Ed. Zoe Bohm)
A new book by the authors behind Mindfulness A Practical Guide to Finding Peace in a Frantic World, the life-changing million-copy bestseller.

Mindfulness Frame by Frame is not solely a sequel to Mindfulness but one that runs in parallel. As covered in the overview from Mark and Danny, readers will benefit from having followed the Frantic World course, but the program in Mindfulness Frame by Frame can be used in its own right to help alleviate anxiety, stress, depression and exhaustion and to enhance overall quality of life. Very timely for all that is going on in the world!

And for those who currently meditate, it has been found to broaden and deepen their practice. It will also serve as a useful addition to those who have completed a standard mindfulness course such as MBCT or MBSR. And for those who struggled with mindfulness or meditation in general, Mindfulness Frame by Frame will offer them another opportunity to transform their life.


Rights
Katie McGowan manages the translation rights for Mindfulness Frame by Frame
Audio Rights
Available
The audio rights are handled by Little, Brown & Company.
Film Rights
Available
Contact Luke Speed for more information