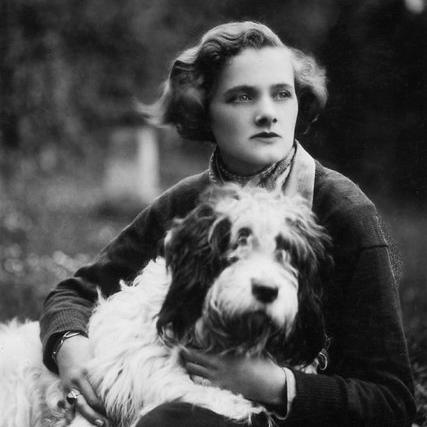 Daphne du Maurier was born in London. She came from an artistic family. Her father was the actor-manager Sir Gerald du Maurier and she was the granddaughter of caricaturist George du Maurier.
Du Maurier grew up in a lively London household where friends like J.M. Barrie and Edgar Wallace visited frequently. In her childhood she was a voracious reader, she was fascinated by imaginary worlds and developed a male alter ego for herself. Du Maurier also had a male narrator in several novels.
Her first book, The Loving Spirit, appeared in 1931. It was followed by Jamaica Inn (1936), a historical tale of smugglers, which was filmed and directed by Alfred Hitchcock. Later Hitchcock also used her short story The Birds, a tense tale of nature turning on humanity, to create a movie classic. Frenchman's Creek, a pirate romance, was filmed in 1944. My Cousin Rachel (1951) was made into film in 1952.
Du Maurier is probably best known for her novel Rebecca (1938), filmed by Alfred Hitchcock in 1940 and starring Laurence Olivier and Joan Fontaine.
Besides popular novels, du Maurier also published short stories, plays and biographies - du Maurier's autobiography, Growing Pains, was published when she was seventy. In the late 1950s, du Maurier began to take interest in the supernatural. During this period she wrote several stories, which explored fears and paranoid fantasies. In 1970 appeared her second collection of short stories, Not After Midnight, which included Don't Look Now, a tale set in Venice, involving a psychic old lady, a man with the sixth sense, and a murderous dwarf. A film version of the story, directed by Nicholas Roeg and starring Julie Christie and Donald Sutherland, was made in 1973.
In 1969 Du Maurier was made a Dame for her literary distinction. She died on 19th April, 1989.

The Daphne du Maurier website can be found at: www.dumaurier.org
'Du Maurier's...novels and stories are fantastically moody and resonant.' - Sarah Waters
Daphne du Maurier has no rival.

Sunday Telegraph on Hungry Hill
Miss du Maurier creates on the grand scale...

Observer on The Loving Spirit