theatre


Producer

RSC

Writer

Harold Pinter

Starring
Aislín McGuckin
Richard Riddell
Justin Salinger

Swan Theatre
David Farr directs Harold Pinter's play at the Swan Theatre as part of RSC's revival of The Homecoming, in celebration of the playwright Harold Pinter and the company's 50th birthday.
The two-act play tells the story of a philosophy professor who brings his wife home to meet his working-class family in North London after nine years in America.
Media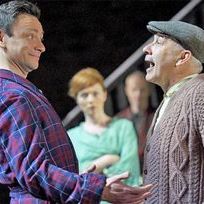 Reviews
David Farr's assured, savagely funny production proves that this play has lost none of its capacity to discomfit and affront.
Paul Taylor
The Independent