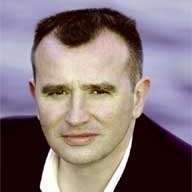 Declan Hughes
Novelist, playwright and writer for film
Biography
Declan hails from South Dublin, Ireland and is an author, playwright and screenwriter.

His first novel, The Wrong Kind of Blood, won a Shamus Award for Best First PI Novel and proved to be the start of an enormously successful crime series charting the activities of private investigator Ed Loy. His novels have been nominated for a host of crime fiction awards.

In 1984 he co-founded the internationally acclaimed Irish theatre company, Rough Magic, for whom he has written a number of commissions. His 2006 film, The Flying Scotsman, starred Jonny Lee Miller and told the true story of Scottish cyclist Graeme Obree, who built a bicycle out of old washing machine parts and went on to win the Tour de France. The film was nominated for seven Scottish BAFTAs, including Best Screenplay.

CV
Film
Writer
Film based on the true story of a thirty year old man who posed as an eighteen year old to qualify for medical school
Starring
John Cleere
Schuyler Fisk
Stephen McHattie
Pauline McLynn
Award-winning film about an Irish boy who befriends Joe, only to discover that Joe is not a boy but a girl
New Films International
Gemini Film

Director
Douglas Mackinnon
Starring
Steven Berkoff
Brian Cox
Jonny Lee-Miller
Film of the true story of Graeme Obree, who built a bicycle out of washing machine parts and went on to become a champion cyclist
MGM
Content Film/Scottish Screen/Scion Films

TV
Writer
Television adaptation of Bernard Cornwell's novel about capital punishment in London in the 19th century