book
| Mar 2018
UK →
Little, Brown Book Group (UK)
(Ed. Lucy Dauman)
US →
Penguin Random House
(Ed. Laura Tisdel)
When Aisling Conroy's boyfriend Jack is found in the freezing black waters of the river Corrib, the police tell her it was suicide. A surgical resident, she throws herself into study and work, trying to forget - until Jack's sister Maude shows up. Maude suspects foul play, and she is determined to prove it.
Cormac Reilly is a detective assigned with the re-investigation of an 'accidental' overdose twenty years ago – of Jack and Maude's drug- and alcohol-addled mother. Detective Reilly is under increasing pressure to charge Maude for murder when his colleague Danny uncovers a piece of evidence which will change everything...
This unsettling small-town noir draws us deep into the dark heart of Ireland, where corruption, desperation and crime run rife. A gritty look at trust and betrayal where the written law isn't the only one, The Rúin asks who will protect you when the authorities can't – or won't.

Rights
Audio Rights
Available
The audio rights are handled by Little, Brown & Company.
Kate Cooper manages the translation rights for The Ruin
Translation Rights Sold
Czech
World
Dobrovsky s.r.o
German
World
Wilhelm Heyne Verlag
Swedish
World
Modernista AB
Media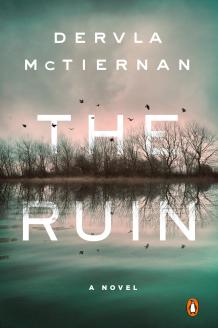 Reviews
'There are not many books that will keep me reading from start to finish but Dervla McTiernan's The Ruin did just that. Began before breakfast and just finished now after midnight. An excellent story, very well written and one that I hope will be part of Bloody Scotland's debut authors panel next year.'


Alex Gray, author of DCI William Lorimer series and a co-founder of Bloody Scotland
[A] superior, haunting novel of murder, deception and ethical dilemma...The Ruin is remarkably sure-footed, every scene building to a find crescendo of tension ratcheting perfectly for the explosive conclusion...a crime writer to watch
Simon McDonald
Books + Publishing
Excellently written and at times, heartcatchingly sad.


Marian Keyes
McTiernan's powerful first novel has the authentic feel of its Irish setting [...] McTiernan ... is a writer to watch.



Publishers Weekly
Everyone's looking for the next Jane Harper - and HarperCollins might have found her in Dervla McTiernan.
Sydney Morning Herald
Smart, incisive writing and a clever, compelling plot. Highly recommended.

Simon Lelic
Heartbreaking and heart-stopping in equal measure, it's an incredibly well-crafted, complex tale and yet remarkably easy to read, such is the subtle brilliance of the plotting (and the writing).

Caz Frear
A gripping mystery that spans 20 years. It's a complicated page-turning story that touches on corruption, clandestine cover-ups and criminal conspiracy.
Val Mcdermid
Daily Mail
The Ruin is as convincing as it is multi-layered, as compelling as it is complex, and heralds the arrival of Dervla McTiernan as a future star of the genre.

Chris Brookmyre
The Ruin is a terrific debut and a rare gem: a compelling crime thriller that delivers depth as well as twists, with every page clearly written from the heart.

Sara Foster
Fans of Tana French will love McTiernan's expertly plotted, complex web of secrets that refuse to stay hidden.

Karen Dionne
Loved every page … Cormac Reilly is a brilliant new character, so real you can hear his footsteps on the stairs. Utterly gripping, brilliantly executed story.

Sam Blake
Absolutely brilliant. Wonderful characters, authentic setting, and a sublime, twisty plot.

Irish Examiner
The Ruin draws us deep into the dark heart of Ireland and asks who will protect you when the authorities can't - or won't?
Hot Press Magazine
Dervla McTiernan's assured debut novel, The Ruin, flits between past and present, as detective Cormac Reilly, newly returned to Galway, investigates the apparent suicide of a young man he knew as a child.

The Observer
[Dervla McTiernan] has written a moving an convincing novel, full of characters about whom its easy to care

Literary Review