Between the Lines by Victoria Pendleton
book
| Non-Fiction
| 2012
In 2005 Victoria Pendleton MBE became first British female to win Gold at the cycling World Championships in 40 years. She followed it up with gold medals at the Commonwealth Games in 2006 and another World Championship in 2007. Arriving in Beijing for the 2008 Olympic Games, Pendleton was on top of the world. She didn't disappoint. In an enthralling example of track cycling, Pendleton took Gold and joined the ranks of British Olympic heroes. And then it started to go wrong.

Feted by the press and the public alike, behind the scenes the cracks and strains started to show. Despite retaining her World Champion status in 2009, it was a close run thing and her shield of invincibility started to drop. Victoria was falling out of love with her sport. The sport that had made her was starting to tear her apart.

Between the Lines documents the considerable lows as well as the well-known highs and reveals why Victoria almost turned her back on cycling before rediscovering her Championship winning form in 2011, the day after suffering one of her most humiliating days on the track.

Hitting the shelves within a matter of weeks from the end of her Olympic programme and written with Donald McRae, two time winner of the William Hill Sports Book of the Year, Between the Lines promises to be the most honest and emotional book from an Olympian to date.
Rights
Kate Cooper manages the translation rights for Between the Lines by Victoria Pendleton
Media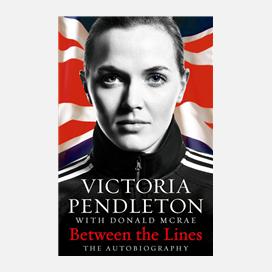 Reviews
The power of this book... is that you can't help wondering what comes next in Pendleton's turbulent life.
Sian Griffiths
Sunday Times
Full Review