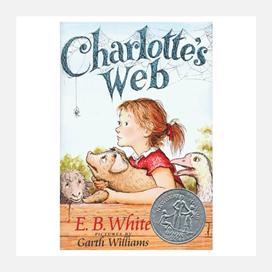 E.B.


White

Novelist and non-fiction writer
E. B. White, the author of twenty books of prose and poetry, was awarded the 1970 Laura Ingalls Wilder Medal for his children's books Stuart Little and Charlotte's Web. The year 1970 also marked the publication of Mr. White's third book for children, The Trumpet of the Swan, honored by The International Board on Books for Young People as an outstanding example of literature with international importance. In 1973, it received the Sequoyah Award (Oklahoma) and the William Allen White Award (Kansas), voted by the school children of those states as their "favorite book" of the year.

Born in Mount Vernon, New York, Mr. White graduated from Cornell University in 1921 and joined the staff of The New Yorker magazine, then in its infancy. The connection proved a happy one and resulted in a steady output of satirical sketches, poems, essays, and editorials. His essays have also appeared in Harper's magazine.

For his total contribution to American letters, Mr. White was awarded the 1971 National Medal for Literature. In 1963, President John F. Kennedy named Mr. White as one of thirty-one Americans to receive the Presidential Medal for Freedom. Mr. White also received the National Institute of Arts and Letters' Gold Medal for Essays and Criticism, and, in 1973, the members of the institute elected him to the American Academy of Arts and Letters, a society of fifty members. He also received honorary degrees from seven colleges and universities. Mr. White died on October 1, 1985.