The Book of Happy Endings
book
| Non-Fiction
| 2007
Two childhood sweethearts meet again as adults, a young woman defies tradition, new love grows from the ruins of an earlier relationship, exiles find home in each other, love flourishes late in life, handwritten letters span the distance of oceans...
We love to hear about love. In a world of bad news and bleak prophecies, it's life-affirming to hear a story with a happy ending. These are true tales of passion and perseverance, chance meetings, unexpected romance, lovers whose stars are un-crossed. There is sorrow here. There are questions, too, but no universal answers--and yet other people's happy endings inspire optimism in all of us.

People have told the author about their personal experiences. She has listened to their unique voices and woven heartfelt stories from their words. All the chapters are about love, but together they are about life.

Rights
Kate Cooper manages the translation rights for The Book of Happy Endings
Media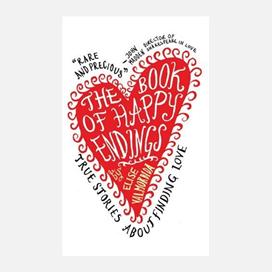 Reviews
In The Book of Happy Endings, Elise Valmorbida achieves something rare and precious, and she writes like an angel.
John Madden
Director of Shakespeare in Love
Intelligent and life-affirming... This is a book that patrons will browse and be compelled to check out. Recommended for most public libraries.
Library Journal, USA
The No1 Best Honeymoon Read.
You and Your Wedding
Valmorbida (Matilde Waltzing) brings her gift for elegant language to this collection of narratives about the search for love.
Publishers Weekly
There's another thing besides happy endings that I like about this book, and that's its design. It looks like a valentine – not a store-bought, last-minute-in-the-grocery-store kind of valentine, but a real one, made by someone who loves you. It's fresh, cheerful, unsentimental. And look at the spine; wonderful. Somewhere between a doodle and an obsession.
ForeWord Magazine
The closing story showed with great poignancy how love carries on even after death. It made me cry, but in a good way, so perhaps there's hope for me yet.
Vulpes Libris
This exquisitely composed, petite book never falls into the saccharine but conveys the heart of its tales with clarity, economy and spirit. Idiosyncratic and delightfully particular this book offers no universal formula for love, but it does inspire optimism for the thing we all hope for - a happy ending of our own.
Female First