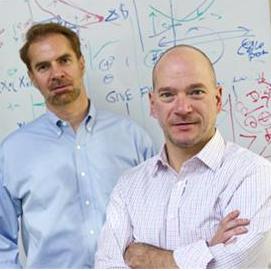 Erik


Brynjolfsson &
Andrew
McAfee
Erik Brynjolfsson is Professor of Management at the MIT Sloan School of Management and the director of the MIT Center for Digital Business.

Erik's research examines the effects of information technologies on business strategy, productivity and employment. He lectures worldwide on technology and strategy. Business Week has profiled him as an "e-business visionary." He is the founder of two companies and has been awarded five U.S. patents. Erik earned his A.B., magna cum laude, and S.M. in Applied Mathematics and Decision Sciences at Harvard University. He received a Ph.D. in Managerial Economics from the MIT Sloan School of Management.

Andrew McAfee is a principal research scientist at the Center for Digital Business in the MIT Sloan School of Management, and a fellow at Harvard's Berkman Center for Internet and Society. His research investigates how IT changes the way companies perform, organize themselves, and compete. McAfee's blog is widely read, becoming at times one of the 10,000 most popular in the world (according to Technorati).

Andrew received his Doctorate from Harvard Business School and completed two Master of Science and two Bachelor of Science degrees at MIT.

In the July/August issue of Harvard Business Review, Andrew McAfee and Erik Brynjolfsson published "Investing in the IT that Makes a Competitive Difference," a summary of their research investigating IT's links to changes in competition. This work was the first to reveal that competition began to heat up in the U.S. in the mid-1990s — to become faster paced, more turbulent, and more winner-take-all — and that this acceleration was greater in industries that spent more on IT.

Their e-book original, Race Against the Machine, was named IT book of the year by CIO Insight magazine. Erik Brynjolfsson and Andrew McAfee were listed at number six on Prospect's 2014 list of World Thinkers.
A terrific book. Brynjolfsson and McAfee combine their knowledge of rapidly evolving digital technologies and relevant economics to give us a colorful and accessible picture of dynamic forces that are shaping our lives, our work, and our economies.
Michael Spence, winner of the 2001 Nobel Prize in Economic Sciences
on The Second Machine Age
For an astute romp through important digital trends, "Machine, Platform, Crowd" is hard to beat.
The Economist
on Machine, Platform, Crowd