book
| Fiction
| 2013
World →
Scholastic Publications
One day, a boy drops his sandwich in a sandpit, and the race is on! A very hungry badger wants it, but he's just not quick enough. The sandwich is dropped, squashed and slithered over by everyon from a squirrel, to a fox, to a band of slugs.

Will the badger ever get his paws on that sandwich? And will he even want it if he does, or will it just be too disgusting?
Media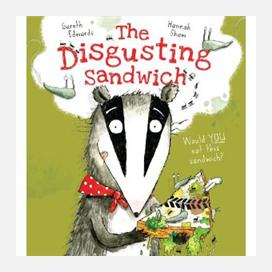 Reviews
Under-fives will delight in its cumulative grubbiness. There is some gloriously gloopy vocabulary and the drawings are bristling with detail.
The Jewish Chronicle
It's certainly a book you can return to repeatedly and I enjoyed it myself so it withstands that re-read test. Fun to share, a delightfully yucky bedtime treat!
Bookbag
As always Hannah Shaw's illustrations are crammed with weird and wonderfully wacky details and perfectly complement the scrumptious tale.
Jill Bennett
Guaranteed to make families laugh is The Disgusting Sandwich by Gareth Edwards and Hannah Shaw ... Written with lip-smacking verve, it will persuade fussy eaters to try harder.
Amanda Craig
The Times
Full Review
A lovely, funny book which brilliantly subverts the reader's expectations.
The Telegraph
Gareth Edwards' straightforward text takes us on a recognizable journey; all the characters, both human and animal, are ones we could meet every day in the park, and their behavior and reactions ring true to a young child's world.
We Love This Book