Martyn has taught creative writing since 2001, working with students and aspiring writers of all backgrounds and ages.
For five years he was a tutor and then co-director of the undergraduate and postgraduate writing programme at the University of Manchester. He has also been a writing fellow at Leeds University, a visiting lecturer at Leeds Metropolitan University and, since September 2009, Associate Senior Lecturer in Creative Writing at Leeds Trinity University College, on the BA in English & Writing.
He has tutored 12 creative writing courses for the Arvon Foundation, run evening classes for the former Borders Bookshop and one-off writing workshops for literature festivals, libraries and writers' groups.
His work with school-age children has included tutoring a one-week residential course for a group of sixth-formers, running an extra-curricular course for Year 12 students leading to a performance of their work at a festival, and two series of journalism workshops for 7-11 and 13-17 year olds.
Martyn's teaching commitments are focused on young people in secondary schools and colleges, from Year 7 to undergraduate level. Since Flip's publication he has visited more than 30 schools to give to give talks and readings and/or to run creative-writing workshops.
Martyn is a member of the National Association of Writers in Education and has public liability insurance and a current certificate of enhanced disclosure from the CRB. His fees are in line with those recommended by the Society of Authors.
If your school or organisation is interested in arranging a visit from Martyn please get in touch via Liz Scott at:
Liz Scott PR & Marketing
07879 640 222/0161 928 4540
liz@lizscottpr.co.uk
http://www.lizscottpr.co.uk
Media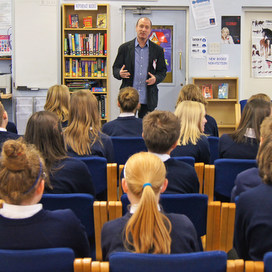 Reviews
"Just wanted to say a big thank you for coming to our school on Wednesday. The students all had a brilliant day and all the feedback has been really positive. They loved your workshop and found your answers to their questions about FLIP and writing fascinating."



Cathy Hawkings, Great Baddow High School, Chelmsford
"My daughter recently attended your creative writing workshop. She really enjoyed meeting you and taking part, in fact she was buzzing with ideas when she came home and it was great to hear her talking about developing her imagination and creative side again."

Ms A.S., after a visit to Guiseley School, Leeds
"Thanks for coming in yesterday to talk to our Year 7s. Both students and staff really enjoyed your talk and I have heard from several students who are now thinking about being authors! So you were definitely a big hit. Don't be surprised if we ask you for a repeat performance!"
David Amdurer, LRC Manager, The Crossley Heath School, Halifax
"I just wanted to let you know how much I enjoyed reading FLIP. Your insight into teenagers is spot on. I absolutely loved the book and it will definitely be on my 'Book of the Week' stand. Thank you for bringing an exciting and original piece of literature into my school library!"

Lorraine Gill, Literacy Lead, Hethersett High School, Norfolk
"I would like to thank you for giving your valuable time to come and speak to our students. I know I am speaking for my colleagues and our students when I say it was a thoroughly enjoyable session that flew by too quickly. I hope that we can ask you to re-visit us."

Susan Fowler, Librarian, Pudsey Grangefield School, Leeds
"Thank you for your visit – I know the pupils thoroughly enjoyed the event and I would really like to invite you to return to deliver two workshops."
Maura Ryan, English teacher, Scissett Middle School, nr. Huddersfield
"Martyn, thank you so much for all your efforts. I believe the students will remember the experience from the Summer Programme for many years to come and we look forward to having you again next year."

Rita Lister, Librarian, Royds School, Oulton, Leeds