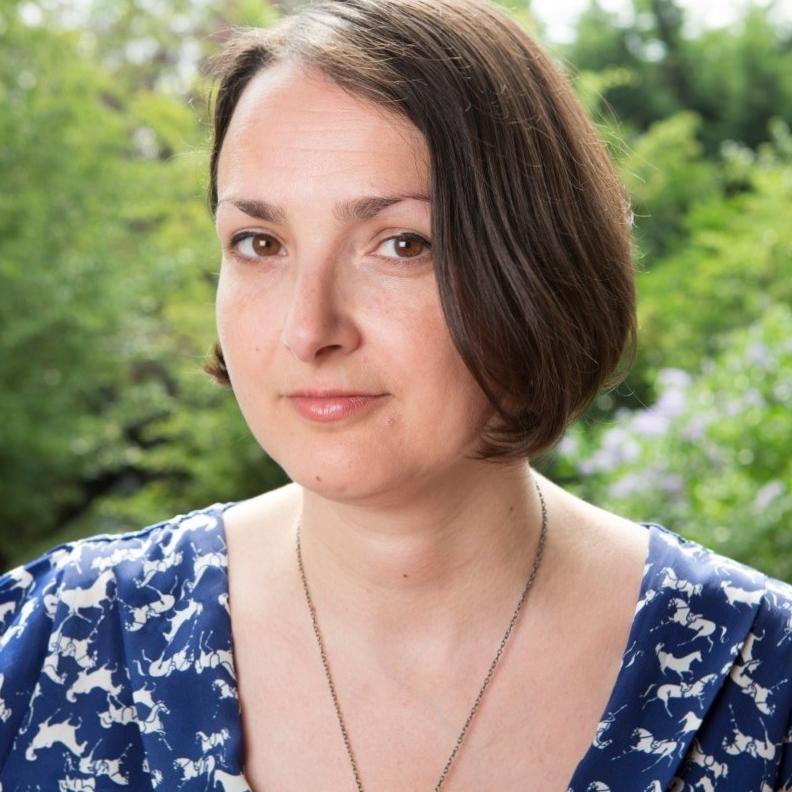 Hannah is currently Resident Writer at Shakespeare's Globe.

Henry VIII is part of their 2022 summer season, and Hakawatis will be staged winter 2022. Her re-telling of Hans Christian Andersen's The Fir Tree premiered in 2021.
Hannah's other theatre commissions include new work for the RSC, Soho Theatre, The Kiln and Mosaic/Fishamble.
Previous work for stage includes A Museum in Baghdad, which opened at the Royal Shakespeare Company's Swan Theatre in 2019 directed by Erica Whyman, Interference for The National Theatre of Scotland, The Scar Test for Soho Theatre and Scenes from 68* Years for the Arcola. Her work is published by Methuen.
Hannah has also written numerous radio plays, including The Unwelcome, Last of the Pearl Fishers and The Deportation Room all for BBC Radio 4.
Television work includes multiple episodes of the Channel 4 drama Hollyoaks. Her short film, The Record, won the Tommy Vine screenplay award at the Underwire film festival, and went on to be made. It was also selected at London Palestine Film Festival.

Hannah was named Heimbold Chair of Irish Studies at Villanova University in 2021 and is a Creative Fellow of the Samuel Beckett Archive for 2021/2022.
Hannah is on Twitter at @hannykha
Hannah Khalil has created a big-hearted and entertaining adaptation. There is a serious (ecological) note, but not too much moralising. There is a bit of singing, an opportunity to decorate trees, and – like all good Globe productions – a little audience participation. It runs at just over an hour, which feels like the perfect length.
Salterton Arts
on The Fir Tree
Perhaps the most powerful and economically written play of the three, Khalil's 40-minute drama ... leaves us with a feeling of near-despair at the prospect of a world in which every kind of human experience can be destroyed, then artificially recreated at a price.
The Scotsman
on Interference: Metaverse
Wickedly funny and heartbreaking.
David Ralf
The Stage on Scenes From 68* Years
A remarkable piece of writing made outstanding by a dynamic production.
Dave Fargnoli
Exeunt Magazine on Scenes From 68* Years
Theatre
Writer
A magical re-telling of Hans Christian Andersen's fairy tale.
The Swan Theatre, Royal Shakespeare Company
Arcola Theatre (Live Stream)
Producer
Sarah Davey Hull
Central School of Speech and Drama
A downloadable play for children to perform at home.
Director
Elizabeth Newman
Pitlochry (Shades of Tay)
The Globe Theatre / Tamasha Theatre Company
National Theatre of Scotland
Untold Arts / Soho Theatre
Alia Alzougbi / Arcola Theatre
Theatre Delicatessen as part of Theatre Uncut
Old Red Lion, London and Unity Theatre Liverpool
Plan D
nominated, Meyer Whitworth Award
Director
Manijeh Mohamedi
Z Space/ Golden Thread's ReOrient Festival San Francisco
Film
Writer
Kerry International Film Festival, London Irish Film Festival, Zebra Film Fest Berlin
The Record
Winner: Tommy Vine Screen play competition (Under the Wire Film Festival)
Louth International Film Festival and Palestinian Film Festival London 2019
Radio
Writer
Production Company BBC
Broadcaster
BBC Radio 4
Production Company BBC
Broadcaster
BBC Radio 4
Production Company BBC
Broadcaster
BBC Radio 4