Kate Miller re-made herself from a geeky teenager into the image of modern woman, with a career in glossy magazines, a wedding to plan and a flatmate who was her best friend. Then it all fell apart - spectacularly, painfully and forever.
Ever since, she's hidden in New York, working as a dogsbody for a literary agency. But when her father becomes ill, she has to return to London and face everything she left behind. She spends time with her upstairs neighbour, Mr Allan, an elderly widower, taking long walks along London's canals and through leafy streets. And she visits her adored but demanding father.
But eventually she has to face her friends - Zoe, Francesca and Mac - the friends who are bound together with her forever, as a result of one day when life changed for all of them. Mac is the man she thought was the love of her life. Now they don't speak. Can Kate pick up the pieces and allow herself to love her life again?
Rights
Melissa Pimentel manages the translation rights for The Love Of Her Life
Audio Rights
Available
The audio rights are handled by Alice Lutyens.
Film Rights
Available
Contact Lily Williams for more information
Media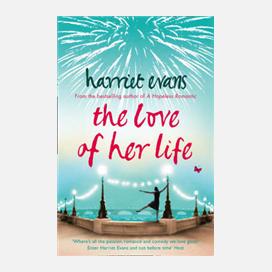 Reviews
'Brilliantly observed and emotionally charged'
Daily Mirror
'A top holiday holiday read'
Closer
'A blissfully entertaining read'
Woman and Home