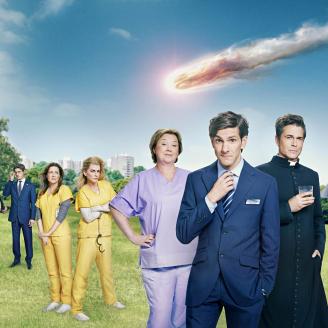 Iain Hollands
Writer for film and television
Biography
Iain Hollands' first original drama, Beaver Falls, aired on E4. The popular comedy about three British lads working in an American camp was extended to two series.
Iain's ten-part original comedy-drama series You, Me and the Apocalypse was produced by Working Title Television and NBC Universal for Sky 1, starring Jenna Fischer, Matthew Baynton and Rob Lowe.
Iain is currently writing The Improbability of Love for Kudos and Anonymous Content, Animal Detective for 42, and The Commune for Fox Searchlight, as well as developing a comedy series Pub Quiz with Big Talk.
Luckily Iain Hollands' absurdist take on the end of the world can withstand the hype. Not only is the cast one of the most unusual of the year, a clever meld of British and American talent... But the show itself is happy to take bold tonal risks, swerving between moments of high drama and laugh-out-loud comedy.
Sarah Hughes
The Independent on You, Me and the Apocalypse