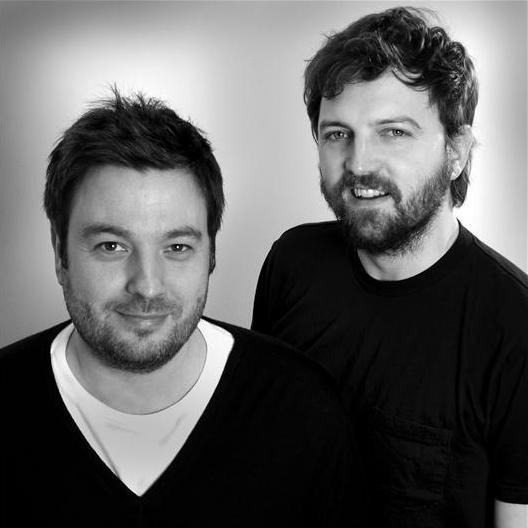 Iain Morris and Damon Beesley
Comedy writers for film and television
Biography
Iain Morris and Damon Beesley co-wrote and executive produced E4's hugely successful award-winning television comedy series The Inbetweeners.

The Inbetweeners Movie, produced by Bwark Productions/Young Films and financed by Film4/Entertainment Film Distributors, was released in the UK on 17th August 2011. Opening strongly, the film took £2.5m on its first day of previews and went straight in at No.1 in the box office. Their sequel, The Inbetweeners 2 also broke box-office records when it was released in 2014 and won a Comedy Award for Best Film.

Iain and Damon have co-written episodes of the cult hit HBO sitcom Flight of the Conchords. Iain is also script editor for Channel 4's multi award-winning comedy Peep Show.

Iain and Damon founded Bwark Productions in 2004 (recently sold to the Zodiak media group) – both had previously worked as comedy commissioners, Iain for Channel 4 (where he commissioned Peep Show and Phoenix Nights) and Damon had spent two years exec producing comedy and entertainment at Ealing Studios - prior to this he was commissioning editor for comedy and entertainment for E4.

The Inbetweeners was picked up by BBC America and the US version for MTV launched in 2012 with Iain directing an episode. The started their new company Fudge Park in 2015 and in 2017 BBC Two broadcast Damon's White Gold, about 80's double-glazing salesmen.

CV
Film
Writer & Director
Starring
Simon Bird
James Buckley
Blake Harrison
Joe Thomas
Sequel to the hugely successful Inbetweeners the Movie
Writer
Starring
Simon Bird
James Buckley
Joe Thomas
Blake Harrison
The quartet of misfits leave their schooldays behind them and set off on holiday to Crete.
Film 4/Entertainment Film Distribution
Bwark Productions/Young Films

TV
Writer
Starring
Jemaine Clement
Bret McKenzie
American television comedy series that follows the adventures of a two-man band from New Zealand.
Director
Michael Patrick Jann
Starring
Jemaine Clement
Bret McKenzie
Writer & Creator & Executive Producer