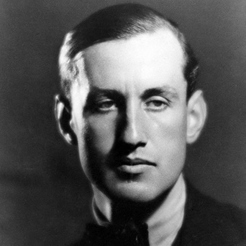 Ian Lancaster Fleming was born in Green Street in London on 28th May 1908, the second of four brothers. He was educated at Eton College and then abroad in Germany and Austria.
After an early career at Reuters news agency, he became a stockbroker. Throughout World War II he worked as assistant to the Director of Naval Intelligence in the Admiralty in London, privy to many secrets. This experience provided him with a rich source of material that he would later incorporate in the James Bond books.
Following the war he became foreign manager, in charge of foreign correspondents for Kemsley newspapers, owners of the
Sunday Times
among other papers. But his creative imagination remained under wraps until 1952, when, at the age of 43, he settled down in his house in Jamaica, and produced – in not much more than two months -
Casino Royale
, the first adventure of James Bond.
He published a further thirteen James Bond titles and lived to witness their enormous success. He also lived to see his famous character played by Sean Connery in the first two Bond film adaptations:
Dr No
and
From Russia with Love
.
He married Anne Rothermere in 1952 and in August that year his only son, Caspar, was born. While convalescing from his first heart attack in 1962, he wrote a short story about a flying car for Caspar -
Chitty Chitty Bang Bang
. He also published two non-fiction titles:
The Diamond Smugglers
, in 1957, and
Thrilling Cities
, in 1963, which was a collection of travel articles written for the
Sunday Times
. Ian Fleming died, aged 56, on 12th August 1964 at Canterbury in Kent.
Listen to a short clip of Ian Fleming on
Desert Island Discs
.