Goodreads list of Top 100 Romance Books Of All Time

book
| Fiction
| 2012
US & Canada →
Amazon Publishing
He was tall, at least six feet, with dirty blond hair that hung over his eyes. His T-shirt read Nietzsche Is My Homeboy.
So, that was Matt. Who Julie Seagle likes. A lot. But there is also Finn. Who she flat out loves.

Complicated? Awkward? Completely.

But really, how was this freshly-minted Boston transplant and newbie college freshman supposed to know that she would end up living with the family of an old friend of her mother's? This was all supposed to be temporary. Julie wasn't supposed to be important to the Watkins family, or to fall in love with one of the brothers. Especially the one she's never quite met. But what does that really matter? Finn gets her, like no one ever has before. They have connection.

But here's the thing about love, in all its twisty, bumpy permutations—it always throws you a few curves. And no one ever escapes unscathed.

New York Times best-selling author Jessica Park mines the territory of love's growing pains with wit, sharp insights, and a discernible heat and heartbeat.

Rights
Roxane Edouard manages the translation rights for Flat-Out Love
Translation Rights Sold
Bulgarian
World
ICU Publishers
German
World
Loewe Verlag
Hungarian
World
Konyvmolykepzo Kiado
Polish
World
Wydawniczy Znak
Portuguese
Brazil
Editora Pandorga
Romanian
World
SC Booklet SRL
Russian
World
Eksmo Publishers
Turkish
World
Altin Kitaplar Yayinevi
Vietnamese
World
Éditions des Femmes
Media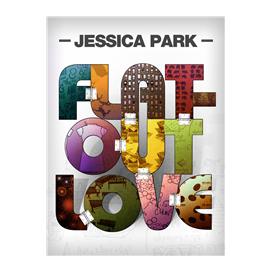 Reviews
Flat-Out Love is the first book in a long, long time that has touched me this deeply.
Book & A Latte
This is The Best Book I Have Ever Read... I have read a lot of books but none like this one. It made me laugh until I nearly cried. It's funny, sad, romantic and just simply fantastic...
ComaCalm's Corner
I loved it so much that I'm already considering how long to wait before re-reading it.The romance in this one is amazing because it's a slow building, feel-it-in-your-stomach kind of love.
Book Labyrinth
It had me laughing, it had me crying, it made me feel emotions that I thought my black heart wouldn't allow.
See K Read
This book was so outrageously good...It's at the top of my favorites. It has surpassed...dare I say it?...my deeply beloved Nicholas Sparks. Totally different type of books but I'm trying to prove a point here.
Just Another Book Addict
Within the first chapter, I laughed out loud no less than four times. The characters were well-rounded, and strong while still vulnerable... Flat Out Love is a shining example of romance in the internet age...
Random Musings