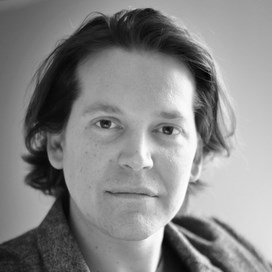 Joe Shrapnel
Writer for film and television
Biography
Joe Shrapnel received an MA in English Literature from St. Anne's College, Oxford University. He worked for two years as a development executive for World Productions before he became a screenwriter. Anna Waterhouse received an MA in English Literature from Queens' College, Cambridge University. She ran her own company, Out of the Blue Productions, under which banner she produced numerous plays in the West End. Now Shrapnel and Waterhouse are married and write screenplays together. They are also starting to produce films through their company, Double Vision Entertainment, Ltd.

Together they adapted Rhidian Brook's The Aftermath for Fox Searchlight and Scott Free, directed by James Kent and starring Keira Knightley, Alexander Skarsgard and Jason Clarke. They wrote Race (Focus Features) directed by Stephen Hopkins and starring Jason Sudeikis, Jeremy Irons, William Hurt, Carice Van Houten and Stephan James as Jesse Owens. They also wrote Frankie and Alice directed by Geoffrey Sax and starring Halle Berry (Golden Globe nomination -- Best Actress) and Stellan Skarsgard. Joe Shrapnel adapted Elmore Leonard's The Tonto Woman as a short film directed by Daniel Barber (Academy Award nomination -- Best Live Action Short).

Films in development include the sequel to Edge of Tomorrow for Warner Bros and producer Erwin Stoff with Doug Liman attached to direct and Tom Cruise and Emily Blunt to star; The Gray Man for Columbia Pictures and producer Joe Roth with Christopher McQuarrie attached to direct and Charlize Theron to star; an adaptation of Mona Golabek's The Children of Willesden Lane for producer Bob Shapiro and BBC Films; Circle of Treason for producer Barry Josephson and Focus Features (the screenplay was included on the 2015 Blacklist); Monk for BBC Films and producer Alison Owen; Gucci for Scott Free; and The Roots of Heaven for Scott Free/Twentieth Century Fox. They are also adapting and executive producing Heather Ann Thompson's Blood in the Water about the Attica prison uprising, in development with producer Amy Pascal and TriStar Pictures.
They are members of the WGAw and are represented by CAA, Grandview, Marks Law Group and Curtis Brown in UK.
CV
TV
Writer & Creator
Series co-written with Anna Waterhouse based on the John Madden character created by Rennie Airth
Mainstreet Pictures
for
BBC
In development
Writer
Producer
Chris Clough & Jake Lushington
Starring
Clive Russel
Lucy Whybrow
Drama about a cab driver at the end of his shift who helps a woman in distress
Producer
Jolyon Symonds and Joel Ransom
Starring
Aiden Gillen
Eddie Marsan
Natashca McElhone
David Morrissey
Rewrite of the three-part thriller series for Sky One
Theatre
Writer
Theatrical adaptation of Jane Campion's film starring Kate Winslet and Harvey Keitel