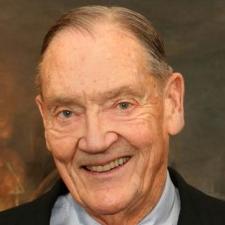 John C. Bogle is founder and former chairman of the Vanguard Group, one of the the largest mutual fund companies in the world.

A legend in the investing world, Fortune has designated Mr. Bogle as one of the investment industry's four "Giants of the 20th Century" and Time magazine has listed him as one of the world's 100 most powerful and influential people. He is the author of the classic business texts Bogle on Mutual Funds, Common Sense on Mutual Funds and The Little Book of Common Sense Investing, among many others.

No investor can be called "intelligent" who doesn't understand the principles Bogle articulates in this book. The investor may still decide to try his hand at outperforming the market, but he should know what he's up against.
Investing.com
on Bogle On Mutual Funds: New Perspectives For The Intelligent Investor
Buffett cannot teach you or me how to become a Warren Buffett. Bogle's reasoned precepts can enable a few million of us savers to become in twenty years the envy of our suburban neighbors-while at the same time we have slept well in these eventful times.
Paul Samuelson, Nobel Prize-winning economist
on Bogle On Mutual Funds: New Perspectives For The Intelligent Investor