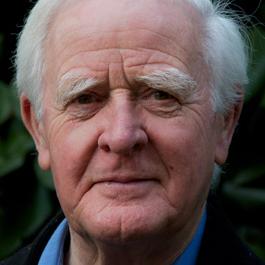 John le Carré was born in 1931. After being educated at the Universities of Bern and Oxford, he taught at Eton before serving in British Intelligence during the Cold War. In 1960, he was transferred to MI6, the foreign intelligence service, and worked under "Second Secretary" cover in the British Embassy at Bonn.

It was during this period that he discovered his passion for writing, publishing Call for the Dead in 1961 and A Murder of Quality in 1962 before writing what is largely considered to be one of the great novels of the twentieth century, The Spy Who Came in from the Cold. The novel launched his career and in 1964, le Carré left the service to devote himself to writing.

In 1979, Tinker, Tailor, Soldier, Spy was adapted for BBC TV as a seven part series starring Alec Guinness. The BBC later adapted Smiley's People for TV in 1982, also starring Alec Guinness as George Smiley.

Several of le Carré's novels have been adapted for the cinema screen including; The Tailor of Panama which was filmed in 2001 starring Pierce Brosnan, Geoffrey Rush and Jamie Lee Curtis; The Constant Gardener which was filmed in 2005 starring Ralph Fiennes and Rachel Weisz and Tinker, Tailor, Soldier, Spy which was filmed in 2011 starring Gary Oldman, Colin Firth, Tom Hardy, John Hurt and Mark Strong.

John le Carré is one of the most respected and prolific writers of his generation and continues to produce some of the most important novels being published today.