Olivier Award for Best Musical 2008
theatre
Role Motormouth Maybelle Shaftesbury Theatre, London
It's 1962 and Baltimore is changing. Tracy Turnblad, a big girl with big hair and an even bigger heart, has only one passion – to dance.
After winning a spot on the local TV dance programme, 'The Corny Collins Show', Tracy is transformed overnight, from outsider to teen celebrity. But can this new trendsetter vanquish the programme's reigning princess, and win the heart of heartthrob Link Larkin, while launching a campaign to integrate a television show; all without denting her 'do? Only in Hairspray!
Johnnie played show-stopping siren Motormouth Maybelle, to universal rave reviews.
Based upon the New Line Cinema film written and directed by John Waters, with a book by Mark O'Donnell and Thomas Meehan,
Hairspray
features an original score by Marc Shaiman and Scott Whittman.
Media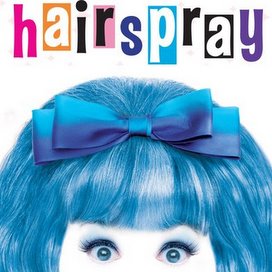 Reviews
As Motormouth Maybelle, Johnnie Fiori delivers the soulful number "I Know Where I've Been" with such
emotional power and clarity that she almost stops the show.
Ray Bennett
The Hollywood Reporter
Sitting in row C of the stalls last night, being assailed full blast by a hot-pumping Mama called Johnnie Fiori, was to encounter the sort of G-forces endured by America's earliest trainee astronauts. Miss Fiori has a Harley Davidson voice - without the silencer.

Quentin Letts
Daily Mail
I saw Hairspray at the final preview rather than the press night, and the audience's whooping response and spontaneous standing ovation suggest it could prove to be the big hit that has eluded the Shaftesbury for so long.
Charles Spencer
Daily Telegraph
Hairspray knocks spots off Grease where the college kids are about as ethnically diverse as the Ku Klux Klan. Here, there are some great roles for black artistes, particularly Motormouth Maybelle, the R&B disc jockey who sings up a storm in Johnnie Fiori's knockout portrayal. And because it is about more than show business and contrives to be airy and fresh as well as knowing, it leaves The Producers looking a bit thin on top.
Paul Taylor
The Independent
There are stand-out black performers in Johnnie Fiori's magnificent music-shop empress and Adrian Hansel as her son Seaweed and, from Ball's vast dimpling rhino of a Mrs Turnblad and Mel Smith.
Benedict Nightingale
The Times