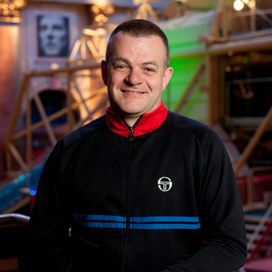 Jonathan Harvey
Novelist, playwright and writer for television
Biography
Jonathan Harvey wrote his first play in 1987, and has since written over 15 more, including Babies, Boom Bang-A-Bang and Beautiful Thing, which was later made into an acclaimed film. He has been the recipient of the Evening Standard, George Devine and John Whiting Awards, and his work has been both Bafta- and Olivier-nominated. He has been hailed as 'the new theatrical voice of his generation'.

Jonathan is also a writer for Coronation Street, on which he has worked since 2004, and his extensive television writing includes his television series, Beautiful People and Gimme, Gimme, Gimme. His first novel will be published in 2012.

Born in Liverpool, Jonathan now lives in London. He originally trained and worked as a teacher, and now runs his own production company, Sixth Floor.
Twitter
#pizza @ Pizza Sophia https://t.co/WQfUV27a0U

RT @AN1MALCRACKERS: Don't worry i put the gate up he can't get out 😩 https://t.co/sW7Xi0tUfT

RT @leejonathan: you know you're in a classy place when the menu is in a poly pocket https://t.co/F1W3UnWQuq