A Midsummer Night's Dream
Greg Doran's masterly production for the RSC was heralded as one of the companies best in recent memory. Light-hearted and laugh-heavy, Doran's production was visually spectacular with a particularly hearty and hilarious staging of Pryammus and Thisbe.
Jonathan played Puck as a camp and lackadaisical fairy with shades of an eco-warrior about him. His performance was the first time he had drawn comparisons with Simon Russell-Beale.
Media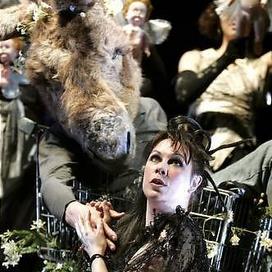 Reviews
Jonathan Slinger brings out his treacherous, capricious sense of humour.
Lisa Hunt
MusicOMH
Jonathan Slinger plays him with a direct, flubbery lipped insolence spare tyre all too evident beneath his vest. His face when the lovers are kicking one another in the goolies is the picture of serene mischief.
Quentin Letts
The Daily Mail