theatre
Role Dromio of Syracuse RSC
The Comedy of Errors
is Nancy Meckler's 2005 production of Shakespeare's Comedy.
It tells the story of Egeon, a merchant of Syracuse, who is imprisoned and given 24 hours to pay a large fine or face execution. Elsewhere in the city, his long lost twin sons Antipholus of Ephesus and Antipholus of Syracuse face a series of increasingly farcical obstacles as they are repeatedly mistaken for one another.

Jonathan plays Dromio of Syracuse in the production.
Media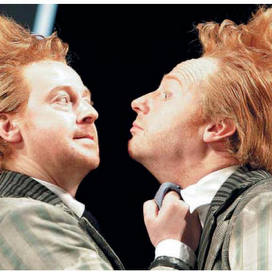 Reviews
There's a spectacularly funny turn by Jonathan Slinger as Dromio of Syracuse
Maxwell Cooter
What's On Stage