Jonathan played Lenny, the middle son of the cantankerous East End patriarch Max, in the RSC's revival of Harold Pinter's play.

When Lenny's brother Teddy returns from America, where he works as an academic, with his new wife Ruth in tow, the family unit restructures to accommodate a new matriarchal figure. Ruth's maternal role, however, stretches beyond the norms as she becomes the living embodiment of the old saying about maids in living rooms, cooks in kitchens and whores in bedrooms.
Media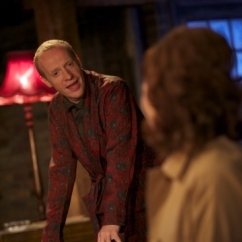 Reviews
A master of the Pinter piss-take, whose pallid face, dead eyes and sharp little grin put one in mind of a shark circling its prey. Like the drama itself, he is both hateful and hypnotic... an especially chilling performance.
Charles Spencer
The Telegraph
Jonathan Slinger brilliantly shows [his] pimping son, Lenny, to be a man who believes himself to be a sexually violent cock of the walk, but who crumbles the moment he encounters a real woman.
Michael Billington
The Guardian