theatre
Role Lockstock St. James Theatre/ Apollo Shaftesbury
Urinetown is set in post-apocalyptic America where environmental catastrophe has caused a drought and forced the city's water to be rationed. As a result citizens are charged to use the toilet.

Jonathan Slinger plays Officer Lockstock, the law enforcer who sends citizens to the infamous Urinetown.

Directed by Jamie Lloyd who re-imagined the show for is London debut at the St James Theatre.
Media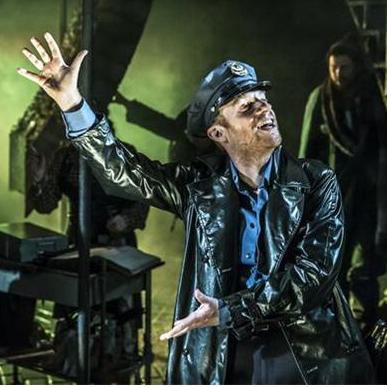 Reviews
Jonathan Slinger, after many years playing Shakespearean leading roles with the RSC, proves superb as the hard-boiled cop debating the niceties of musical theatre
Charles Spencer
The Telegraph
The mere presence of RSC star Jonathan Slinger as the buttonholing cop, looking like Richard III in a fascist mac, gives the proceedings an air of menace.
Michael Billington
The Guardian
Time Out on Urinetown

But the real revelation is Slinger.. he's utterly magnificent as Officer Lockstock, the lovably sadistic policeman with a deliciously fruity Noo Joisey accent whose ongoing dissection of the action provides most of 'Urinetown's belly laughs.
Andrzej Lukowski
Time Out