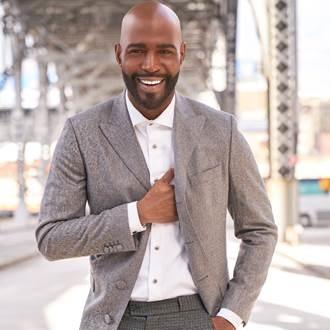 Karamo Brown is a dynamic talk and lifestyle television host. He can currently be seen as the Culture expert on the Emmy nominated Netflix reboot, Queer Eye, where his job is to make-over the hearts and minds of the people they are helping, so they can confront and grow past the internal issues that are holding them back.
Karamo is a graduate of Florida A&M University. He worked in social services for over a decade before transitioning into media. He began his television career in 2004 as a housemate on the hit MTV reality series The Real World.

Shortly after the conclusion of The Real World, Karamo learned he had a nine- year- old biological child that he never knew existed. With the support of his child's mother he petitioned and gained full custody of his son Jason. A year after gaining custody of Jason, Karamo adopted his second son Christian, who is Jason's half- brother.
Karamo's ongoing mission is to use his clinical background combined with his unique life experiences to help his audience have the hard conversations with themselves so that they can engage in the hard conversations with others. Karamo believes by addressing those personal yet universal topics that effect us all, in an entertaining and digestible way; we can all learn live more stimulating and accomplished lives together.