Pericles is Dominic Cooke's 2006 production of Shakespeare's controversial (and possibly co-authored) romance, performed as part of the RSC's Complete Works Festival in Straford-upon-Avon. It follows the title character Pericles, Prince of Tyre, as he abdicates his thrown and flees from his kingdom following the discovery of a plot by Antiochus, King of Antioch, to murder him

Kate played Thaisa, Pericles' wife and the mother of his child, in the production.
Media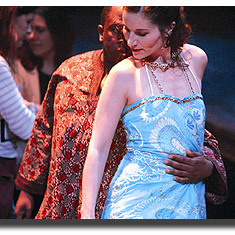 Reviews
The casting is to perfection, with riveting performances by three newcomers to the RSC - Lucian Msamati, Ony Uhiara and Kate Fleetwood.
Peta David
The Stage