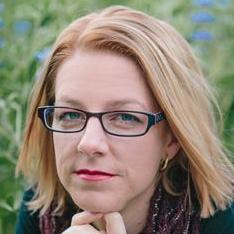 Kim Lock was born in Mount Gambier in 1981. In her early twenties she moved to Darwin, where she spent several years as a senior graphic designer for the Northern Territory's top advertising agency. As always, she wrote—but she kept it to herself. After living in Darwin, Melbourne and Canberra, Kim returned to home soil in South Australia, where she lives in the Barossa Valley with her partner and two children.
Kim qualified as a breastfeeding counsellor when her first child was young, and has volunteered supporting parents in this role for several years. As a mother and a feminist, Kim has a particular passion in activism for women's rights in pregnancy, birth and motherhood. Inspired by a fascination with the tales that develop behind closed doors, Kim's fiction explores the stories that shape people's lives, but that they hide from society.

Her debut novel, Peace, Love and Khaki Socks, was released by MidnightSun Publishing in 2013. Her second novel, The Good Mother, was selected to participate in the QWC/Hachette Australia Manuscript Development Program 2013. Her writing has also appeared in, amongst others, Daily Life, The Sydney Morning Herald, and Bellybelly.com. She is currently working on her third novel.