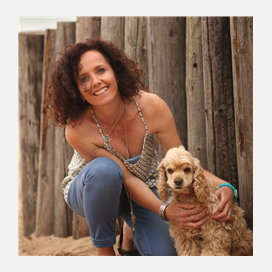 Lauren Davies has over 20 years experience writing novels, documentaries and multi-media film content. Lauren graduated from Trinity College, Cambridge with both an Honours degree and a Masters degree in Law and worked as a corporate solicitor before following her dream to become a writer. She is driven to tell inspiring stories whatever the genre.

Under the name Lauren McCrossan, she has published three bestselling novels with Time Warner paperbacks, most recently the Irish romantic comedy Water Wings of which she is currently developing the screenplay adaptation. Her first bestselling novel Serve Cool, based in Newcastle, reached the top ten debut novels of the year in 2001. Her second novel Angel on Air was long-listed for the Romantic Novelists Association romantic comedy of the year in 2003. The books are translated into three languages.

Lauren wrote the multi award-winning, cinema-release documentary, Waveriders, which topped the Irish Box Office as the highest grossing Irish Film of the Year. Waveriders won the Dublin International Film Festival Audience Award 2008, an IFTA for best feature documentary 2009, the Celtic Film Festival Outstanding Contribution to Film-making Award, the Beloit Festival, the Surfer Poll USA best documentary award and aired on BBC1 NI.

Lauren wrote Cloud 9, a documentary about multiple world champion surfer Kelly Slater which accumulated 877 hours of worldwide television and The Tony Hawk Show television documentary about the skateboarding legend Tony Hawk, which aired worldwide.

Lauren recently created the characters and story for the unique BAFTA-nominated multi-media game I Am Playr produced by Bigballs Films and We R Interactive, which combines film content and gaming technology via social media. The football themed game launched in 2011 and won a Gold Cannes Lion Award in 2012.

In 2011 Lauren co-founded Lola Cove Films based in Newcastle with her professional surfer and producer husband, Gabriel Davies. She is currently writing and developing a feature film with the support of Creative England, Film 4 under the Film 4ward scheme and Northern Film & Media.

Lauren's first children's book Little Turtle Turns The Tide was published in December 2019. It is an environmental book for young children that is a positive call to action, encouraging them to be Eco Heroes. The book launched in Waterstones and has featured on Zoe Ball's Breakfast Show on Radio 2 and Radio 4's Pick of the Week. Lauren is now developing the Little Turtle musical with schools.
RT @TyneIdols: Raise a glass to our fine friend #PhilOKeefe RIP https://t.co/T5a5M0CpGq
Follow @lozzadavies