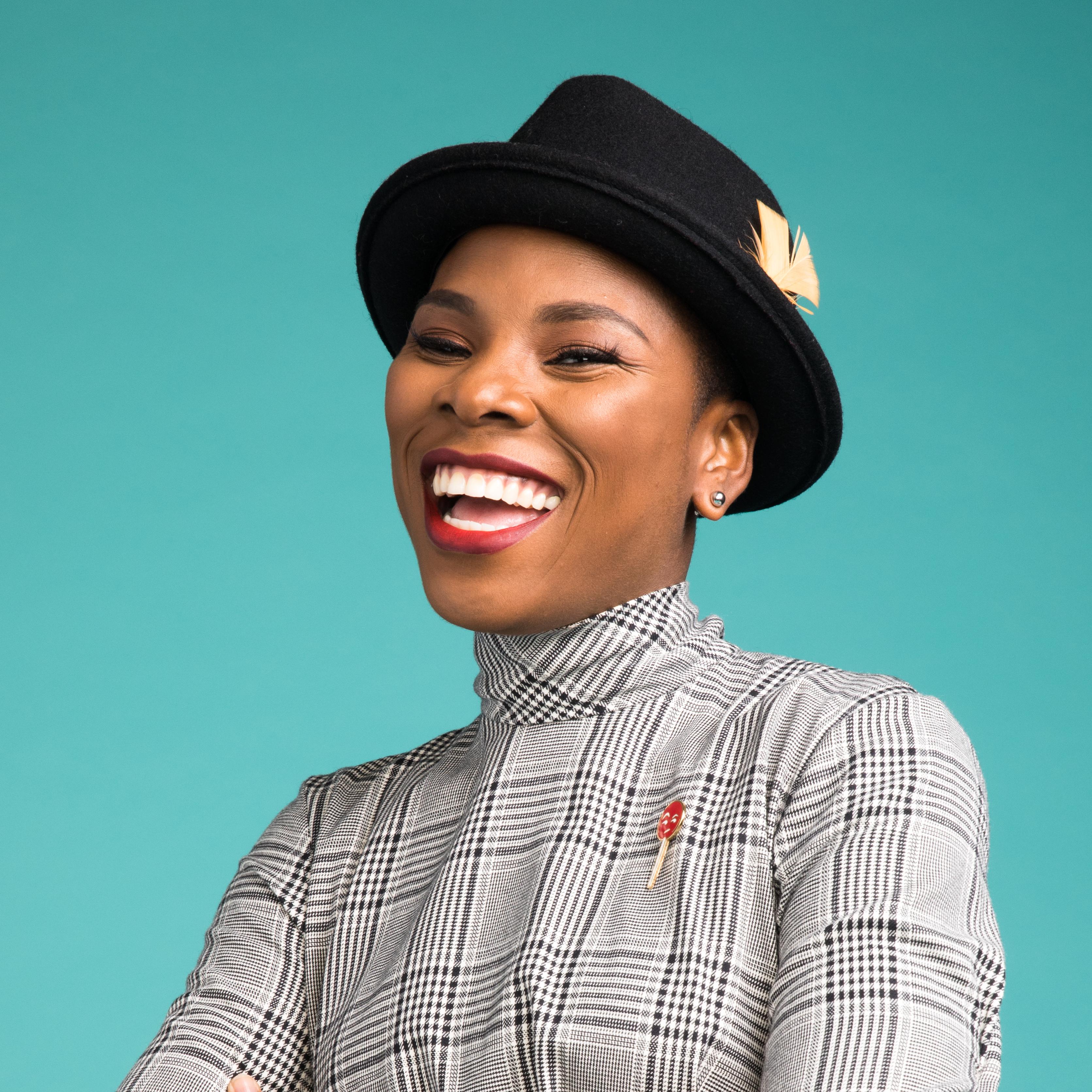 Luvvie Ajayi is an award-winning author, speaker and digital strategist who thrives at the intersection of comedy, technology and activism.

Her debut book, I'm Judging You: The Do-Better Manual, was released to critical acclaim and became an instant New York Times best-seller. It's a collection of essays that critiques our fame-obsessed, social media-centric lives, while encouraging us to do better. She was voted as the Influencer of the Year at the Iris Awards and was chosen as a Black Innovator by XFINITY Comcast. She is a past winner of the Women's Media Center's Social Media Award for using her voice and humor to amplify issues surrounding gender, racial and social justice.

She's been on the cover of Essence and has been featured by The New York Times, Good Housekeeping, Forbes, Fortune, Inc., NPR, Marie Claire, Chicago Sun-Times, Black Enterprise, The Root and more. As a writer and columnist, Luvvie has contributed to Vulture, Ebony and Uptown.
There's nobody quite like Luvvie Ajayi Jones. She's a force and a powerhouse, the thunder and the lightning — and Professional Troublemaker shows us exactly how she got that way. This is a great book about reaching deep down inside yourself, crushing your fears, unleashing your 'too-muchness', and giving yourself permission to shake the world. In a voice that is funny, wise, bold, and always generous, Luvvie encourages, inspires, and dares us to follow our dreams, fight against injustice, soak up the pleasures of life, and take up all the space in the room. If this book doesn't make you feel bolder and braver by the final page, then you weren't reading it right. I loved every passionate word of it.
Elizabeth Gilbert
author of Big Magic and Eat, Pray, Love on Professional Troublemaker: The Fear-Fighter Manual
This book is a manual on HOW TO HUMAN. You could spend a lifetime and fortune finding the perfect therapist, mentor, minister, career coach, and girlfriend — or you could just spend a day reading Professional Troublemaker. This book — Luvvie Ajayi Jones's most helpful, bold, vulnerable, hilarious, and relevant work yet — is equal parts catharsis and wake-up call, both comforting and galvanizing. I laughed and cried so hard that my family asked me to read in the other room. With her razor-sharp mind, soul on fire, and heart of gold —Luvvie is the writer and artist the world needs right now. This will be my go-to gift for all the beloved troublemakers in my life.
Glennon Doyle
author of Untamed and founder of Together Rising on Professional Troublemaker: The Fear-Fighter Manual
As an oft-scared chickenhead, who cares too much about what others think, it's so comforting to be guided through my own crippling fear and self-doubt by one of the bravest, most incisively honest, hysterical voices I know. This book was so real, relatable and so much of it had me belly laughing. This is the essential manual for anybody who is ready to take that leap of faith to bet on the best, uninhibited, whole version of themselves.
Issa Rae
actor and author of The Misadventures of Awkward Black Girl on Professional Troublemaker: The Fear-Fighter Manual