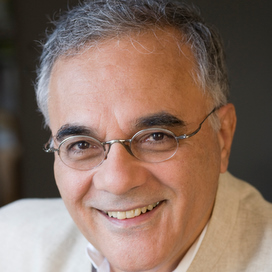 Mahmood Mamdani
Non-fiction writer on Africa and human rights
Biography
Mahmood Mamdani is Herbert Lehman Professor of Government, and a member of the Departments of Anthropology and Political Science and the School of Public and International Affairs at Columbia University. He received his Ph.D. from Harvard University in 1974 and specializes in the study of African history and politics. His works explore the intersection between politics and culture, a comparative study of colonialism since 1452, the history of civil war and genocide in Africa, the Cold War and the War on Terror, and the history and theory of human rights.
Prior to joining the Columbia faculty, Mamdani was a professor at the University of Dar-es-Salaam in Tanzania (1973-79), Makerere University in Uganda (1980-1993), and the University of Cape Town (1996-1999). He has received numerous awards and recognitions, including being listed as one of the "Top 20 Public Intellectuals" by Foreign Policy magazine in the US and Prospect magazine in the UK in 2008. From 1998 to 2002 he served as President of CODESRIA (Council for the Development of Social Research in Africa). His essays have appeared in the New Left Review and the London Review of Books, among other journals.
From Kampala, Uganda, he now divides his time between New York and Kampala.