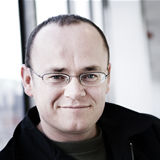 Mark


O'Rowe

Playwright and writer for film and television
Mark O'Rowe is a playwright and film writer whose second play, Howie the Rookie, won the George Devine Award when it premiered at the Bush Theatre in 1999. In 2007 he wrote Terminus, a series of interlocking monologues, which received rave reviews when it opened at Dublin's Abbey Theatre and won a Fringe First when it transferred to the Edinburgh Festival in 2008.
In 2003, Mark wrote his first feature film, Intermission, which starred Colin Farrell and Cillian Murphy. He went on to adapt Jonathan Trigell's novel, Boy A, for Cuba Pictures and Channel 4. Originally written for television, the film was picked up for theatrical release by the Weinstein Company after it won numerous awards, including a Broadcast Award for Best Single Drama, a Broadcasting Guild Award for Best Single Drama and four jury awards at Dinard British Film Festival, including the Golden Hitchcock (Dinard's top jury prize), which was awarded by unanimous vote by the festival judges.
Mark's adaptation of Daniel Clay's novel Broken was directed by Rufus Norris (London Road) and stars Cillian Murphy and Tim Roth. The film opened Cannes Critics' Week and won Best Independent Feature at the BIFAs in 2012.
In 2013 Mark directed a critically acclaimed new production of Howie the Rookie re-imagined for one actor, starring Tom Vaughn-Lawlor and produced by Landmark Productions. Mark's new adaptation of Henrik Ibsen's classic play, Hedda Gabler, opened at the Abbey Theatre in Dublin in April 2015.
In 2014, he wrote and directed Our Few and Evil Days at the Abbey Theatre, Dublin. The play won both Best Actress and Best New Play at the Irish Times Theatre Awards.

In 2015, Mark adapted four of Shakespeare's History Plays (Richard II, Henry IV Part 1, Henry IV part 2, and Henry V) for Druid Theatre Company, resulting in the epic (and hugely successful) Druid Shakespeare and, the following year he directed Sean O'Casey's Juno and the Paycock at the Gate Theatre, Dublin.

In 2016, Mark wrote and directed the feature film, The Delinquent Season, he showrun the television series, Temple for Hera Pictures/Sky Atlantic and wrote an episode of Normal People for Element/BBC. Mark is currently working on The Day for BBC Studios and That Dirty Black Bag for Bron Studios/Palomar.

Theatre
Writer & Director
Starring
Sinéad Cusack
Ciarán Hinds
Ian Lloyd Anderson
Charlie Murphy
Producer
Landmark Productions
Starring
Tom Vaughan-Lawlor
Project Arts Centre, Dublin
Starring
Andrea Irvine
Aidan Kelly
Eileen Walsh
Producer
Landmark Productions
Starring
Cathy Belton
Derbhle Crotty
Aisling O'Sullivan
Project Arts Centre, Dublin
Writer
Starring
Catherine Walker
Jane Brennan
Peter Gaynor
Kate Stanley Brennan
Keith McErlean
Starring
Clare Barrett
Derbhle Crotty
Gavin Drea
Bosco Hogan
Garrett Lombard
Starring
Aisling O'Sullivan
Marie Mullen
Eileen Walsh
Director
Gerard Stembridge
Starring
Luke Griffin
Anthony Brophy
Andrew Connelly
Starring
Aidan Kelly
Karl Shiels
Project Arts Centre, Dublin
Director
Starring
Declan Conlon
Peter Coonan
Ingrid Craigie
Derbhle Crotty
Emmet Kirwan
Film
Writer
Broken
Winner: Best Film, British Independent Film Awards
Feature
Producer
Dixie Linder, Nick Marston & Tally Garner
Starring
Rory Kinnear
Cillian Murphy
Tim Roth
Eloise Laurence
Robert Emms
Perrier's Bounty
Nominated: Best Film and Best Writer, Irish Film and Television Awards
Feature
Producer
Elizabeth Karlsen, Stephen Woolley & Alan Moloney
Starring
Jim Broadbent
Brendan Gleeson
Cillian Murphy
Gabriel Byrne
Michael McElhatton
Boy A
Winner: Best Single Drama, Broadcast Awards
Feature
Producer
Lynn Horsford, Nick Marston and Tally Garner
Starring
Andrew Garfield
Peter Mullan
Siobhan Finneran
Katie Lyons
Jeremy Swift
Intermission
Winner: Best Script, Irish Film and Television Awards
Feature
Producer
Neil Jordan, Alan Moloney, Stephen Woolley
Starring
Colin Farrell
Cillian Murphy
Colm Meaney
Kelly Macdonald
David Wilmot
Buena Vista & IPC
Brown Sauce Film Productions
Writer & Director
Producer
Dixie Linder & Alan Maloney
Starring
Declan Conlon
Joanne Crawford
Aisling O'Sullivan
Catherine Walker
BBC Films & Irish Film Board
Cuba Pictures & Parallel Films
Starring
Cillian Murphy
Andrew Scott
Cuba Pictures & Parallel Film
Television
Writer
BBC Studios
In development
Director
Lenny Abrahamson
Starring
Daisy Edgar-Jones
Paul Mescal
Element Pictures
for
BBC 3,
Hulu