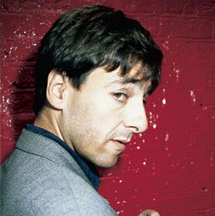 Mark Steel
Non-fiction writer
Biography
Mark Steel is a renowned writer, broadcaster and stand-up comedian.
He started doing stand-up in 1982, around the circuit of gigs going on after jugglers and escapologists. Then came the Comedy Store, Jongleurs, and The Tunnel, which led to a regular slot on Radio 4's Loose Ends.
Four series' of The Mark Steel Lecture have been broadcast on BBC Radio, one on Radio 4 and three on Radio 5. He also presented three series of a sports programme called Extra Time.
He has written columns for the Socialist Worker, The Guardian and The Independent, and has appeared on various panel shows such as Have I Got News For You, QI, Room 101, and Question Time on Radio 5.
His Radio 4 series, Mark Steel's In Town, won the Silver Award for Best Comedy at the Sony Radio Academy Awards and the Writers' Guild of Great Britain Award for Best Radio Comedy/Light Entertainment in 2010.