TV series in development (ABC)

book
| Fiction
| Jul 2013
Soon to be an ABC TV show by producer Shonda Rhimes.
Still Star-Crossed follows the aftermath of the tragic deaths of Romeo and Juliet, as mysterious figures in Verona are determined to reignite the feud between the Montagues and the Capulets.
In fair Verona, enemies still walk the streets. Two news hearts. Same two families. The fight to the altar is about to happen. All. Over. Again.

Despite the "glooming peace" that has settled on Verona following Romeo's and Juliet's tragic deaths, the ancient grudge between the Montagues and Capulets refuses to die: the two houses are brawling in the streets again within a fortnight. Faced anew with "hate's proceedings," Prince Escalus concludes that the only way to marry the fortunes of these two families is to literally marry a Montague to a Capulet. But the couple he selects is uninterested in matrimony, for the most eligible Montague bachelor is Benvolio, still anguished by the loss of his friends, and the chosen Capulet maid is Rosaline, whose refusal of Romeo's affection paved the way for bloodshed. In contrast to their late cousins, there's no love lost between these two, and so they find a common purpose—resolving the city's strife in a way that doesn't end with them at the altar.

But like Romeo and Juliet before them, Rosaline, Benvolio, and the prince find that the path to peace is tortuous, and that in Verona, true love lies where it's least expected.
This fast-paced and insightful Shakespearean homage, filled with clandestine meetings, romantic encounters, and duels over family honor, will delight and captivate readers.
Rights
Roxane Edouard manages the translation rights for Still Star-Crossed
Film Rights
Available
Contact Jennifer Joel for more information
Audio Rights
Available
The audio rights are handled by Liz Farrell.
Translation Rights Sold
German
World
Bastei Lübbe Verlag
Hungarian
World
Konyvmolykepzo Kiado
Portuguese
Brazil
Verus Editora
Spanish
Spain
Nocturna Ediciones
Spanish
Latin America
V & R Editoras
Media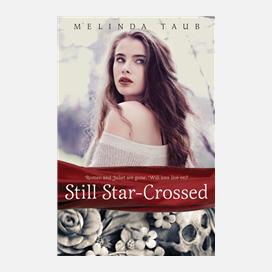 Reviews
Love and violence intertwine in this spectacular sequel to Shakespeare's Romeo and Juliet.

Love and violence intertwine in this spectacular sequel to Shakespeare's Romeo and Juliet... A perfect blend of the intimate and the epic, the story both honors its origin and works in its own right.

Kirkus (starred)
Full Review
This dark drama, set in the world of Romeo and Juliet, is tempered with wit and humor as Taub blends Shakespearean-style dialogue with a less opulent prose narrative that artfully decodes the vocabulary for readers new to the Bard.
Booklist
Full Review
This well-written novel, whether standing alone or serving as a back-door introduction to the original, should be a first purchase for school and public libraries.
School Library Journal
Full Review